Bill Maher Responds To Claim From O'Reilly And Scarborough That He Is A Hypocrite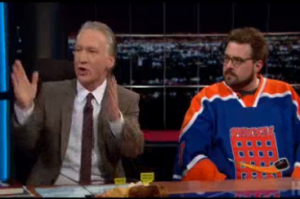 Bill Maher surprised some recently when he called Bill O'Reilly's Super Bowl interview with President Obama "unpatriotic". O'Reilly thought the criticism was comical and even Joe Scarborough found Maher to be hypocritical, since both O'Reilly and Scarborough remembered how disrespectful Maher had been to President Bush through the years. Yet Maher quickly, and rather convincingly, defended himself.
In the "Overtime" segment of his HBO show, which is available at HBO.com, Maher admitted that he said horrible things about President Bush in the past, but highlighted why he is not a hyprocrite:
"Yes [I made disrespectful comments about the President] but not to his face. That's the difference. People are so f*ckin' stupid. Yes, you're right. I called Bush a retard, and every other thing. But if I went to the White House and was sitting in the Oval Office talking to Bush, I would not talk to him that way, because I would have respect for the office. And when you talk to the President, even when you don't agree with him and don't like him, you let him finish a sentence."
Guest Tavis Smiley seemed to suggest O'Reilly should not be blamed though, since Obama knew what to expect by agreeing to do the interview with O'Reilly.
Given that O'Reilly's exchange with Obama was entertaining, informative and ultimately enhanced the public's perception of Obama more than any interview since the President's last interview with O'Reilly, the continued criticism of it for being disrespectful seems overblown and more importantly, an opinion not at all shared by Obama himself. However, Maher makes an indisputable point that making jokes from far away is very different from sitting across from the President in the White House and talking to him like you're with him at a bar. Although many found O'Reilly's informal conversation with Obama to be uniquely revealing, Maher established here that he is no hypocrite for having a vastly different opinion.
Watch the clip from HBO below:

Have a tip we should know? tips@mediaite.com