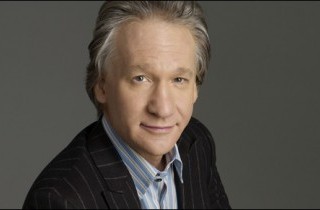 In a Wednesday afternoon blog post, HBO's Real Time host Bill Maher took on what he perceives to be the Republican Party's tendency to elevate any celebrity that declares himself a conservative. "Republicans Are the Nation's Biggest Starf**kers," declared the self-censored headline.
The piece was inspired by last month's controversy over Ted Nugent's "subhuman mongrel" comments about President Obama and the failure of Texan GOP gubernatorial candidate Greg Abbott to condemn his own celebrity supporter.
["B]oy, do Republicans love celebrity," Maher wrote. "For all the time they waste bitching about liberal Hollywood and our cesspool, and writing books called 'Shut Up & Sing,' they're really just upset because they don't have many celebrities of their own."
He added that while there are celebrity conservatives in addition to Nugent, like Jon Voight, Chuck Norris, Dennis Miller, Clint Eastwood, and Kelsey Grammer, conservatives are "really outnumbered on the celebrity front."
"What happens then is the same thing that happens with minorities in the Republican Party," he explained, "they get elevated to the top immediately, whether or not they're ready. It's why Herman Cain was leading in the Republican primaries for a short time. Because it was like, 'Look! We got one! And we're going to make him president!' And why Victoria Jackson gets to speak at rallies on the Mall when she's not drooling and rocking back and forth at the home."
He concluded that perhaps conservatives shouldn't bash Hollywood or celebrities so frequently and, instead, admit "they just hate liberals."
Mediaite readers may recall that Maher did defend Eastwood's controversial 2012 Republican National Convention speech. Watch that here.
— —
>> Follow Andrew Kirell (@AndrewKirell) on Twitter
Have a tip we should know? tips@mediaite.com