Bill Nye, Piers Morgan, And Climate Skeptic Clash Over Global Warming On CNN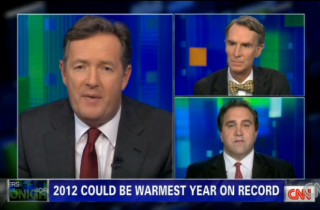 Famed science TV host Bill Nye ("The Science Guy") and Piers Morgan battled with climate skeptic Marc Morano last night on Morgan's CNN program. The debate focused mainly on whether or not global warming is a manmade phenomenon, and both Morgan and Nye wholeheartedly disagreed with Morano's skepticism on the subject.
"If there is a massively increased acceleration in CO2 in the atmosphere at the same time that there's been a bigger than double the sizing of the population of the planet, why would that not be inexorably linked?" Morgan pressed Morano at the outset. "Explain to me."
"CO2 is rising. No one is disputing that," Morano replied. "The question is what impact does CO2 have on the weather, what impact the CO2 have on climate change. And that, as we you look at the geologic records, we've had warmer periods where it's been with lower CO2 and we've had colder periods with higher CO2…. The bottom line is hundreds of factors are dictating our climate."
He continued: "So the idea that Bill Nye is just going around saying CO2 is up, therefore global warming is dangerous, we should be concerned, it's not. It's not dangerous. The bottom line is all these factors dwarfs the effects of CO2."
Morgan interrupted, asking Morano to explain how New York just experienced the worst hurricane it has ever endured, among other recent freaky weather on both sides of the continent. "How do you explain that we're getting so many of these freakish weather patterns if at the same time you've got all this extra CO2 in the atmosphere and all these people now guzzling up power and energy and emitting gases that weren't there before?"
"You're looking at anecdotal evidence," Morano shot back, before taking a shot at Nye: "This is now the level of your daily horoscope. Basically global warmists like Bill Nye say global warming will cause many bad weather events and guess what? Bad weather events happen all the time so people look and they say look, there's more proof, there's a bad weather event."
"The world is indisputably getting warmer," Morgan replied before deferring to Nye for help.
"This will be the hottest two decades in recorded history. And so when you throw around a statement like the U.N. says it's not the hottest 20 years? I got to disagree with you," Nye pointedly said.
Have a look at a clip below, via CNN:

[h/t NewsBusters]
— —
>> Follow Andrew Kirell (@AndrewKirell) on Twitter
Have a tip we should know? tips@mediaite.com