Bill O'Reilly Agrees With Darryl Hannah Over Fossil Fuel Dependence; Does Not Agree With Her Protest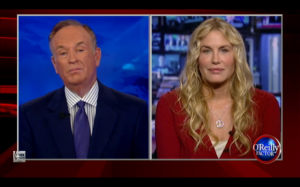 Last night, Bill O'Reilly had actress and environmentalist Darryl Hannah on his show to talk about her continued opposition to a proposed oil pipeline that would run from Canada to the U.S. Gulf Coast. Hannah was arrested last week at a sit-in in front of the White House, and has in the days since maintained her stance, continuing to say that she and her fellow protesters are seeking freedom from fossil fuel dependency and that they hope Obama will not bow to oil lobbyists. An odd match, the two actually seem to be in agreement when it comes to on thing: the need for fossil fuel independence. We weren't expecting that.
In support of certain energy intake changes and innovations, O'Reilly in the past has been if-y on fossil fuels negative impact, and always clear that he is "no Fanatical Green Giant" and that "yes, we use the most energy in the world, but we also drive the world's economy and protect the world from madmen like bin Laden."
He didn't sound so wavering last night, though, when he and Hannah found themselves in confident agreement that what our country needs is true energy independence and freedom from fossil fuel. "I want that as much as you do," he tells her, "I don't want to be dependent on oil or fossil fuels. 90 percent of my audience wants it!"
That's where the agreement ends. Not yet ready to don cuffs for the cause, O'Reilly seems less interested in Hannah's tactics. "It's very challenging to do right by U.S. citizens and that's what we're asking for," she says. If Obama does sign the bill, "you will see that the actions of the White House will be stepped up," she goes on to warn, reminding that when you look "any significant social movement in a historical context … they all require a certain amount of civil disobedience, and I think you're going to see more and more of this as the days go by if that's the case." Sounds like her fight might just be beginning, and like maybe one day, O'Reilly will join her.
Watch the short clip for yourself below:
Have a tip we should know? tips@mediaite.com