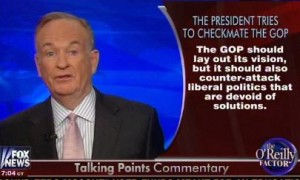 Bill O'Reilly believes our political problems have simple solutions, but who is to blame for the gridlock and inability to get things done? O'Reilly pointed fingers squarely at President Obama, whom O'Reilly said is more interested in trying to box in the Republican party on divisive issues in order to start an intra-party fight. O'Reilly even cited Ted Nugent as someone the GOP should be taking its cues from.
RELATED: GOP Congressman Bashes His Party's Immigration Plan: 'Shameless Political Ploy To Buy New Voters'
O'Reilly observed that since the start of his second term, Obama has been trying to "hammer" the opposition over gun control and immigration reform. He said that while he and many conservatives believe in common-sense gun regulations, liberals just want to make the gun debate about "limiting firearms," which O'Reilly said would do absolutely nothing to prevent violent crime.
On immigration, O'Reilly said all Obama needs to do is agree to secure the border, and Republicans will concede on the amnesty issue. But Obama, as O'Reilly argued, is not committed to securing the border, which is why an immigration deal cannot get done. But what O'Reilly did credit to Obama for was the division he has created in the Republican party.
O'Reilly cited Louisiana governor Bobby Jindal's comment that the GOP needs to stop being the "stupid party" as an example of the apparent divisions within the party over important issues. O'Reilly ran a clip of Nugent defending gun owners to CNN's Piers Morgan to show how Republicans need to engage on the issues. O'Reilly lamented that while people want simple solutions for the nation's problems, we're not seeing an honest debate in Washington.
Watch the video below, courtesy of Fox News:
—–
Follow Josh Feldman on Twitter: @feldmaniac
Have a tip we should know? tips@mediaite.com
Josh Feldman - Senior Editor