Bill O'Reilly Slams Candy Crowley's Moderating: 'Totally Blew It' On Libya, 'Helped The President'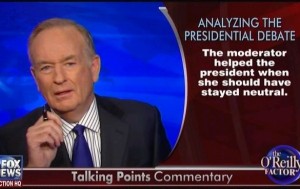 Bill O'Reilly concluded from last night's presidential debate that President Obama "helped his cause" considerably following his first debate performance, but Mitt Romney also had considerable success, establishing himself as the president's "equal" on policy. He highlighted the two candidates' strongest and weakest moments, and criticized moderator Candy Crowley for stepping out of the ring of impartiality to defend Obama when the two candidates faced off over the administration's handling of last month's attack in Libya.
RELATED: Megyn Kelly Focus Group Explodes Over Candy Crowley's Debate Moderation
O'Reilly thought that Obama "gained the most" from last night's debate, saying that the president's best moment was at the end when he brought up Romney's comments about the 47 percent, while Romney's best moment was when he attacked Obama on not keeping his promises to improv the economy.
But in the moment when Romney confronted Obama over energy policy, O'Reilly thought the exchange "did not [make him] look presidential, he looked like a cable news analyst." On the other hand, O'Reilly thought that Obama came out looking week when talking about gas prices and dodging an important question about the amount of security provided to the consulate in Libya.
As for Libya, the now-infamous exchange between Obama and Romney over the administration's responses to the attacks were not just striking for what the candidates said, but for what the moderator said too. O'Reilly said that by fact-checking Romney in real time, Crowley "helped the president… when she should have stayed neutral." O'Reilly argued that the comments Obama made in the Rose Garden the day after the attacks were more generic, and he was not "specifically" calling what happened in Libya a terrorist attack.
Watch the video below, courtesy of Fox News:
—–
Follow Josh Feldman on Twitter: @feldmaniac
Have a tip we should know? tips@mediaite.com
Josh Feldman - Senior Editor