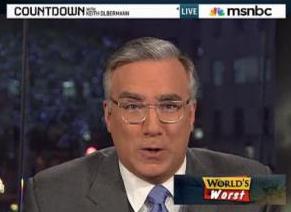 A staple of MSNBC's top program, Countdown with Keith Olbermann, is the host's frequent jabs at others in the media. The target of a lot of those jabs – FNC's top host, Bill O'Reilly.
But if you've watched Countdown recently you may notice a lull in O'Reilly mentions. We checked it out, and the results are surprising.
According to TVEyes.com, O'Reilly hasn't been mentioned on Countdown since August 27, when he was named a "Worst Person." But that means it's been three weeks of shows with the focus of Olbermann's ire shifted elsewhere.
There's two possible reasons for this. Some could say this is a calculated tampering down in criticism of the FNC host by Olbermann as part of the deal between FOX and GE. Except that the "deal" is pretty much "no deal" at this point. Also, when Olbermann was last talking about O'Reilly, it was done in the context of some very personal attacks.
The more likely reason is that O'Reilly is no longer the big rightie at FNC. Sure, he's still the most powerful voice on the network by far, with viewership reaching more than four million many nights. But there are other targets that more accurately fit what Olbermann wants to accomplish when he goes after those on the right. While O'Reilly discussion has been silent in September, Olbermann has named Sean Hannity to the "Worst Persons" list several times, Glenn Beck has made the list a couple times, and even Lou Dobbs of CNN has made an appearance. And while Hannity beats the conservative drum and Beck plays the libertarian/'take back your country' angle, O'Reilly is hinting at support for some very, dare we say, Democratic proposals. No one will accuse Bill O'Reilly of turning left, but the self-avowed independent is coming across much more independent recently, especially when compared to other major voices at his network.
There will come a time when Olbermann mentions O'Reilly again – and if it bothers the FNC host enough, O'Reilly will probably find an Iran/GE connection to expose. But for now, Olbermann is comfortable saving his 'faux news' attacks for other more accurate targets.
> Update: As Johnny Dollar noted, O'Reilly has been referenced by Olbermann this month, but has never appeared in the "Worst Persons" segment.
Here's last night's "Worst Persons," featuring Beck and Dobbs:
—–
» Follow Steve Krakauer on Twitter
Have a tip we should know? tips@mediaite.com