Bob Beckel Flips Out At Fox Co-Hosts For Harping On Obama Easter Sermon: 'You Forget Your History, Big Boy!'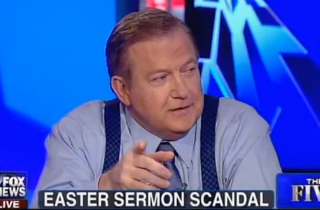 It's pretty clear Fox's Bob Beckel does not like Jesse Watters, nor does he think the outrage over Obamas' Easter service reverend slamming the "captains of the religious right" is worth a full news segment.
During his Sunday sermon, which was attended by the Obama family, Rev. Luis Leon said that "It drives me crazy when the captains of the religious right are always calling us back… for blacks to be back in the back of the bus… or women to be back in the kitchen… for immigrants to be back on their side of the border."
After several minutes of squabbling with The Five co-host Andrea Tantaros over whether or not Leon's remarks represent "bigotry" when compared with, say, controversial evangelists like Pat Robertson, Beckel went after his own show for dedicating time to this story:
"Do I think it was a good message on Easter Sunday? No," he said. "Do I think the only reason we are running the story is because Obama was the in the church? Sure. It is so you can all beat up on him."
"The president seems to attract these radicals. He must have felt right at home," fill-in co-host Watters later interjected. "This is right out of Reverend Wright's playbook. He did this before. In 2010, he went to the Shiloh Church and the sermon there compared Fox News to the KKK and Rush Limbaugh to the KKK and talked about Jim Crow. Should the president have left the pews and walked out? I don't really know if he has the stones for that. It would have made a big impression."
Clearly not enjoying this conversation, Beckel shot back, "Frankly if we didn't have that footage of Obama walking out of the church, you think we would lead with this story? See that picture right here [of Obama leaving the church]? That's the only reason we are talking about it."
– RELATED: O'Reilly Factor's Crack Ambush Reporter's Shocking Discovery: 'Punk' Teenagers Not Political Experts
Watters countered that the reverend's message was "anti-Christian" by slamming the religious right as "bigots." Beckel agreed that the sermon was "inappropriate" but added that it does not excuse other preachers like Robertson who continually "politicize from the pulpit on the right."
When Tantaros and Kimberly Guilfoyle suggested the president shouldn't have attended a Rev. Leon sermon at all, given his "history" of "inflammatory" comments, Beckel again took issue with the conservatives using this story "as a perfect launch pad to attack [President Obama]."
"I am not going to sit and defend what he said," Beckel continued. "Do you want to defend what Pat Robertson has said over the years? Do you want to try it?"
Watters responded by saying that Robertson is no longer a religious leader in this country, which prompted Beckel to shout back, "You forget your history, big boy."
"It has nothing to do with this guy," Beckel continued to rail against his co-hosts. "It is the people at The Five who wanted to run this tape because of Obama."
A minute or so later, Beckel asked his co-hosts: "If it was [Republican leader] John Boehner who heard this sermon would we do this? Of course not."
"If Boehner was in a church service and they were ripping on women and ripping on gays and he sat there, you don't think the mainstream media would cover that?" O'Reilly ambusher-in-chief Watters asked.
"Oh, grow up," Beckel replied.
"You don't think the mainstream media would cover that?" Watters pushed again.
"Grow up! You think for a second we're not doing this because of Obama?" Beckel concluded.
And thus ended perhaps the most awkward segment in Five history.
Watch below, via Fox:
— —
>> Follow Andrew Kirell (@AndrewKirell) on Twitter
Have a tip we should know? tips@mediaite.com