Bob Beckel Reacts To 'Belated' CBS Apology He Demanded: Shocked They 'Could Be That Insensitive'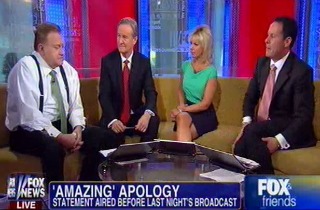 Last week, Fox News Channel co-host of The Five, Bob Beckel, attacked CBS and The Amazing Race for broadcasting an offensive episode which he said trivialized the experience of veterans of the Vietnam War. He demanded an apology from CBS over the "idiotic" episode for forcing contestants to memorize communist songs and visit the wreckage of a downed American B-52 bomber.
CBS issued an apology for the episode. On Monday, Beckel reacted to the apology on Fox & Friends saying it was "belated" but welcome.
RELATED: The Five's Bob Beckel Is Furious, Tells 'Idiotic' CBS Executives To 'Shove It'
"Why did you react the way you reacted?" Brian Kilmeade asked Beckel.
"Well, I was stunned," Beckel said. "I couldn't believe anybody could be that insensitive."
Beckel said that his opposition to the Vietnam War made him sensitive to the disregard for the sacrifices of the veterans displayed by CBS. "Just the insensitivity of doing it on the 50th anniversary of the war in Vietnam," Beckel added.
The Fox host said that the reaction he received from the public over his objection to the episode was overwhelmingly positive, which is rare.
"What do you think of the apology?" asked Gretchen Carlson. "Is that enough for you?"
"I think it's belated, to say the least," Beckel replied. He said that he hopes CBS investigates how a lapse like this could occur. "You could understand maybe if it was young kids, producers and stuff, who didn't have any relationship to Vietnam," he continued, "but somebody, certainly, who had been in my generation – the boomer generation – that ripped us apart. It defined my generation."
"I don't take any credit for it," Beckel said of CBS' apology. He said that the conservatives and liberals that he spoke with were on the same page about the offensive episode. "It was the one place where liberals and conservatives certainly could agree on something, and I thought that was important."
Watch the clip below via Fox News Channel:
> >Follow Noah Rothman (@NoahCRothman) on Twitter
Have a tip we should know? tips@mediaite.com