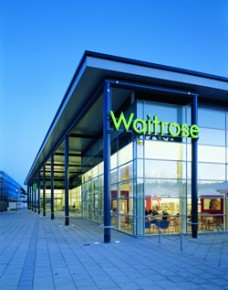 The stateside advertising boycott of Glenn Beck's show following his remarks on Obama's supposed 'racism' may not have had as big a financial impact on Fox as the boycotters might like you to believe, but anti-Beck sentiment continues to ripple out in unexpected ways. Case in point: Waitrose, which the AFP describes as "Britain's most upmarket supermarket chain," has pulled all advertisements from Fox News sister channel Sky News in response to complaints about Beck's show.
A customer services spokesman for Waitrose told The Guardian: "We take the placement of our ads in individual programmes very seriously, ensuring the content of these programmes is deemed appropriate for a brand with our values… Since being notified of our presence within the Glenn Beck programme, we have withdrawn all Waitrose advertising from the Fox News channel with immediate effect and for all future TV advertising campaigns." Sky News, which is owned by Fox's parent, News Corporation, rebroadcasts a significant chunk of Fox's content, though its revenue is considered separate from Fox's.
As we've said several times, the Color of Change-led boycott of advertising on Glenn Beck has the weakness that cable advertising is sold in network-wide blocks rather than by time slot. Not many of the American advertisers who made swashbuckling public statements about dropping ads during Beck's program followed through with the actually meaningful step of dropping all Fox ads (UPS was one of the rare few to claim to do so, though their advertising is scheduled to return to Fox immanently).
Waitrose may not be a well-known name in the US, but it's a fairly substantial chain in the UK: there are 216 Waitrose supermarkets in the UK (compare that to the 276 Whole Foods locations in the US and UK combined). What's more, it's considered a high-class establishment; as the raw story points out, they were the first supermarket chain to get a Royal Warrant from the Queen of England. Though it won't directly impact Fox News's US revenue, Waitrose's decision to drop the ads is a meaningful one that could have a spillover effect in the US.
Have a tip we should know? tips@mediaite.com