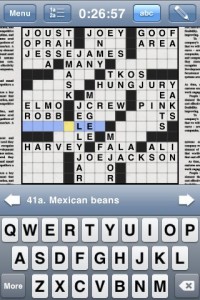 The New York Times crossword puzzle is a veritable gold mine. Online an annual subscription costs $39.95 or $6.95 a month, which is why a $9.99 iPhone application (relatively expensive by industry standards) seemed like such a steal — unlimited mobile use for a one-time payment of ten bucks! But insider blog NYT Picker is now reporting that the deal was too good to be true: anyone who has purchased the program so far will see their copy stop working in the next month or two — and the Times keeps the $9.99.
After disabling current iterations of the program, the paper will launch another version, charging a monthly fee of $1.99 for the app, with more detailed subscription plans to follow. At this time, there are no plans to issue a refund. As a result, many customers — who thought they were buying an unlimited version of the service — are lashing out at the Times. Via NYT Picker:
"I Paid for a Year!" reads the headline of one scathing review on the iPhone app, from a user named Timburwolf. "Ok, hold on. I bought this months ago and I remember it saying it was a subscription App. But I paid for a year and now it says my subscription is up November 1. Is that even legal?"

Other review headlines call the move "despicable!" "appalling" and a "rip off," and attack the NYT for its greed. Many of them demand a boycott of the NYT.
"The NY Times should be ashamed for their devious switcheroo," reads another review. "I will delete [the App] and never purchase a NY Times app — I might never buy a newsstand copy of the paper either." That's not the kind of PR a paper needs these days.
A commenter points out that it may actually be Apple that's stingy with the refunds when it comes to re-pricing applications, and that many companies are taking the losses themselves to reimburse angry customers. We'll have to wait and see what's worth more for the struggling Times: hoarding a bunch of unfair $9.99 payments or keeping the people pleased.
Have a tip we should know? tips@mediaite.com