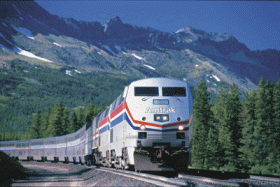 A New York-to-Boston Amtrak train has been stalled outside Providence for over 4 hours because of an "electrical" issue, stranding passengers inside with only one working bathroom  — and Twitter isn't coming to their rescue.
Despite numerous passengers tweeting at theh #amtrak hashtag, the train — which left NYC at 6:20 a.m. and stalled somewhere in the neighborhood of 9:15 a.m., according to one passenger —  is still parked in place.
According to passenger Susan McPherson,the train is "down to one working bathroom" after the journey from NYC to Boston suddenly got a lot longer.
McPherson, who tweets at @LittleMac1, is one of many passengers on the ill-begotten train who have been tweeting up a storm, out of frustration and perhaps, the hope of relief.  Nevertheless, that online and mobile megaphone has not seemed to speed the repair of the issue. Judging from the tweets, more than one train is implicated –  there are reports of an 8:03 a.m. train similarly stalled, as well as a separate incident outside Union Station in Washington, D.C. Here are some sample tweets:



@gmarsh17

:

Take #amtrak to avoid delays and been sitting in Providence for 3 hours Awesome. Not alone on Twitter either…

@dtunkelang: Amtrak/Acela FAIL. Been stuck somewhere in Rhode Island for 2 hours, indefinitely delayed en route to Boston.





@LittleMac1

:

Almost 3 hours since #Amtrak broke down this am and no end in sight. Makes me long 4 Europe's system




@DowntownWoman

:

earlier Acela train ripped down some wires #Amtrak NE disrupted service. Lots of workmen trying to isolate live wires outside my window.




@lehmannchris Train now stranded outside Balto–presumably cuz engineer can't figure out how to back it in on track / AMTRAK = TORTURE




@dtunkelang

:

Acela is moving now, albeit at anything but high speed. 8:03am leaving NYC, arriving in Boston at…3pm? More like 4pm. Amtrak #FAIL.




@lokison: Probably not making our bus in Boston. Awesome. Amtrak had better pay for a hotel for us.


MRobDC

:

amtrak is a great way to travel…as long as you dont care when you get where you're going…
Amtrak itself has no official presence on Twitter. (Joe Biden! You might want to suggest that.) Says @DowntownWoman: "Surprised no #Amtrak on Twitter. Lots of angry riders who will be tough to win back."
Perhaps – as McPherson points out, it's not like there are fabulous Euro-style alternatives (and plane delays are just as notorious, particularly out of New York). Still, Twitter is supposed to get you somewhere — to loudly announce your needs in real time so that the world can react accordingly. I'm not sure if that would make it less frustrating or more. We'll have to see what people tweet about it.
In the meantime, according to McPherson, with whom I have emailed about these delays, they were promised that they'd be moving soon. So hopefully they will be! In the meantime, maybe the Twitter boys want to open up their API for a train-fixing application.
Either way, at least they are keeping their sense of humor. From @GoodVibeCoach: "Irony = getting an email titled "Amtrak rewards" while stuck on a train that is nearly 3 hours late. <-ha!"
Godspeed, weary travelers.
UPDATE: That was quick. Via Twitter, from our friend @Cheeky_Geeky, aka Dr. Mark Drapeau: "On train to DC now. Problem is down power line (or similar) in RI, gumming up the Boston-NYC-DC corridor." Yikes. Good luck everyone!
Have a tip we should know? tips@mediaite.com