By Evoking Chicken Buckets and Race, Byron Allen Clearly Needs New Comcast Suit Strategy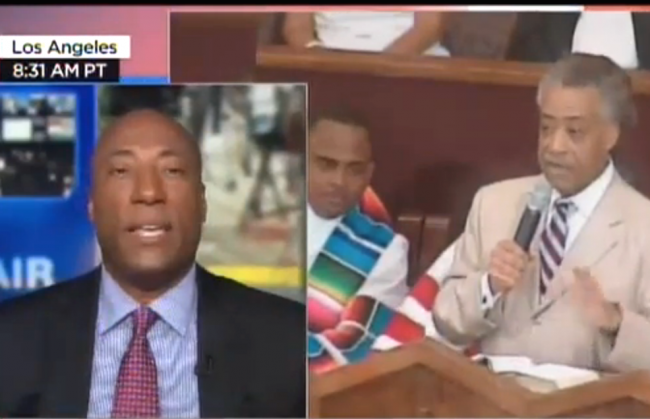 Byron Allen is quickly becoming someone Al Sharpton should be very concerned with. As we already know and continue to hear on a daily basis, the Rev gets a daily dose of criticism on some level. The lyrics change a bit but usually go something like this:
How does Sharpton stay on the air? He can't even read a teleprompter and/or his ratings are horrible.
Why does Sharpton keep getting invited to the White House when he owes millions in taxes?


Why does the IRS allow him to get away without paying said taxes?
Why do the president and Valerie Jarrett continue to value him as a trusted advisor?
Why does the media keep giving him a platform after every racial controversy?
And so on…
Of course, most of said criticisms usually come from white people, which plays right into Mr. Sharpton's Us vs. Them strategy. But Byron Allen — the CEO of Entertainment Studios — is a different kind of critic: He, like Sharpton, works in television. More notably, Mr. Allen is African-American, and a brutally candid one at that, thereby taking away Sharpton's #1 go-to play: The race card.
As you may have heard, Allen and other black media owners are suing Comcast and Time Warner Cable for $20 billion on grounds of discrimination. So here was a national TV audience moment for him this morning, a moment when Allen had an opportunity to land a haymaker to Sharpton on CNN's Reliable Sources and advance his argument in the court of public opinion. But instead of simply stating that Sharpton is being used for cover by Comcast and TWC by employing him and providing him a national platform, Allen just had to needlessly go down a racial path… the kind of unforced error that creates the kind of sound bite which completely distracts and discredits an otherwise valid argument. The quote [emphasis mine]:
[Comcast] don't do business with real African-American-owned companies, just give him [Sharpton] $50,000 and a bucket of chicken and we're good.
So now, all thanks to that bucket of chicken line, both Allen and Reliable Sources host Brian Stelter know where the conversation is focused on after the fact, and it's a place neither individual would prefer. Note: Allen's decision earlier in the interview to declare Sharpton as the "least expensive negro" was briefly challenged by Stelter, who cautioned Allen on the risk of being inflammatory before being cut off quickly by the guest who asserted "the numbers are actual" and proceeding to carry on for another 25 seconds. However, later in the interview, when Allen decided to start bringing chicken into the conversation as noted above, the host — not known for confrontation in these situations — simply let it go without challenging.
In the end, Allen hurts himself in exploiting the double standard around racial references (think of the reaction if George Allen or Tim Allen had made such a comment). Consequently, nobody is talking about Byron Allen's assertion of the industry spending "$50 billion a year licensing cable networks in which 100 percent African American-owned media receives less than $3 million per year in revenue from that 50 billion stream of money that is spent to acquire content," as he laid out nicely in a HuffPost Live interview two days prior.
Instead, it now comes down to shock value via Allen, a CEO who should know better and one who can't make an argument without evoking the word "negro" or insulting his own race in turning chicken into currency. Rest assured, his legal team will be having a long conversation with him on Monday (if they haven't already), because his credibility just dropped a few notches in getting down into the swamp with Sharpton.
An awkward interview on CNN this morning…and one that didn't do a thing to advance Allen's actual premise: Major companies ignoring African-American audiences and by extension, African-American media properties when it comes to where they spend their money.
It might be time for Byron Allen to rethink his strategy…and hire a PR coach in the process.
Watch the segment below, via CNN:
— —
>> Follow Joe Concha on Twitter @JoeConchaTV
Have a tip we should know? tips@mediaite.com