Carol Roth Nails CNBC Guest Who Attacked States Over Tax Breaks for Ignoring 'Economic Reality'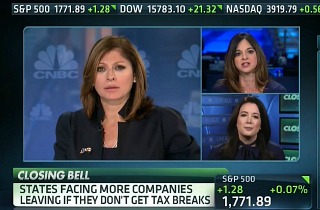 In a fiery segment on CNBC on Monday, CNBC contributor Carol Roth brawled with Washington Post Magazine Contributor Cathy Areu over whether it was necessary for states to offer corporations tax-based incentives to ensure they do not relocate to friendlier tax climates. Areu argued that these tax breaks are not necessary and deprive people of the revenue governments need to go back to a time "when people were making minimum wage" and they "drove on wonderful roads." Roth countered that Areu's "talking points" did not reflect "economic reality."

Maria Bartiromo began the segment but reporting that Illinois is offering the office goods supply chain Office Depot tax-based incentives to remain in the state. She asked the Chicago-based Roth if this was a necessary strategy.
"You cannot tax your way into prosperity," she said. "We have seen net migration out of this state, out of other states like California, and we're losing it to those states that have very good tax policies like Texas and the like."
"it's not just losing those corporations, it's losing taxpayers, it's losing businesses that pop up to support those businesses and those taxpayers," she continued.
"These corporations do not need these tax breaks," Areu countered. "They're just getting away with asking for them."
"Poor Illinois has given in," she added. "Sears had a wonderful deal, but we don't know what that deal is because it's very hush, hush."
"They're going to Florida and they're going to pay practically nothing," Areu added. "The state is not getting taxes for their education. I mean, Illinois is doing what it needs to do to keep its education standards high, to keep its people trained, to make the roads better."
"These are talking points that are not based in economic reality," Roth argued. "There is free market competition amongst the states, and the states that aren't willing to negotiate will see those businesses pick up and relocate."
"What would you prefer to see happen, Cathy?' Bartiromo asked. "No tax breaks and make sure that the taxes are higher?"
"I'd like to see companies give back to the communities like they used to – like the good old days," Areu stressed. "A time when people were making minimum wage and CEOs weren't making millions of dollars, and everyone's children were getting educated, they were driving on wonderful roads, and everyone benefited."
Watch the clip below via CNBC:
[Photo via screen grab ]
— —
> >Follow Noah Rothman (@NoahCRothman) on Twitter
Have a tip we should know? [email protected]