Carson to Megyn Kelly: CNN's Reporting on My Childhood Violence Is 'Smear Campaign,' 'Garbage'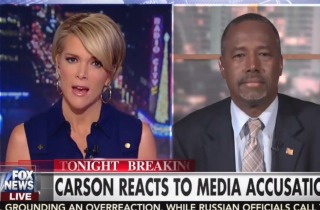 Republican presidential candidate Ben Carson responded on Thursday night to reporting from CNN, which said it could not find evidence for many of Carson's claims of incidents that occurred during a tumultuous childhood.
Carson unequivocally stood by his specific claims that, as a child, he attempted to stab someone and once attacked his mother with a hammer.
"This is simply an attempt to smear and to deflect the argument to something else," Carson said of CNN's reporting, later calling it a "smear campaign" and saying the American people will decide whether they agree with CNN that he is a "pathological liar."
The former pediatric neurosurgeon added that he is not revealing the names of those involved in the stabbing incident in order to "protect the innocent." Carson previously said he does not plan on "exposing" them, adding that they could come forward if they wanted to.
Carson revealed to host Megyn Kelly that he spoke on Thursday with the person who he attempted to stab. He said that that person is a close relative who is "not anxious to be revealed."
Asked by Kelly if he thinks CNN's reporting marks the beginning of an effort to undermine his candidacy, Carson blasted the network for putting out "garbage":
"I'm not going to play that game with them. They can do it all they want. They're going to go back and try to find anything that I've ever said, and try to get me on the defensive about it in order to distract away from the things that are important."
Watch the video above, via Fox News.
[Image via screengrab]
— —
>>Follow Andrew Desiderio (@desiderioDC) on Twitter
Have a tip we should know? tips@mediaite.com