Catholic League Calls for Maher's Firing Over Dan Savage's 'Kiddie F*cking Priests' Comment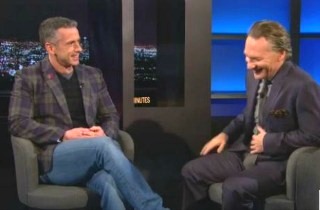 In an interview on HBO's Real Time with Bill Maher on Friday, sex columnist Dan Savage tore into a Catholic bishop who had opposed a recently signed same-sex marriage law in Hawaii. "He's confusing children with gay parents with children who are raped by Catholic priests," Savage countered. As a result of his comments, Catholic League President Bill Donohue has called for HBO to end its relationship with Maher.

When asked about one Catholic clergyman's objections to gay marriage rights on Friday, Savage told Maher that he was tired of "kiddy-fucking Catholic priests" lecturing others on morality.
"They don't have moral high ground when they talk about the welfare and safety of children, they just don't," Savage added. "They have squandered that on the tips of their dicks."
RELATED: Dan Savage Goes Off on Cheneys, Baldwin, and 'Kiddy-F*cking Catholic Priests' with Maher
In a response to Savage's comments on Monday, Donohue wrote on The Catholic League's blog that HBO should make amends for this comment by letting Maher go.
"On Friday night, Maher teed up Dan Savage, another anti-Catholic bigot," Donohue wrote. "What happened was particularly vicious."
"We are sending to every member of Time Warner's board of directors a copy of 54 anti-Catholic statements made by Bill Maher on TV," the Catholic advocacy group president continued.
Savage responded to Donohue's demand by dismissing it and criticizing the church's failure to address the issue of pedophiles within its ranks.
"The Church covers up and enables, the Bill Donohues run interference, the authorities turn a blind eye," Savage wrote. "So, yeah, someone has to condemn."
Watch the clip below via HBO:
h/t Raw Story
[Photo via screen grab ]
— —
> >Follow Noah Rothman (@NoahCRothman) on Twitter
Have a tip we should know? tips@mediaite.com