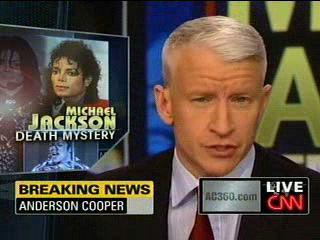 Michael Jackson died on Thursday night. But let's be clear – this story is not dying any time soon.
CNN summoned the Best Political Entertainment Team on Television, and led each of its prime time programs with the Jackson story . Over on the network news, CBS is prepping a Jackson special to air tonight in prime time, anchored by Katie Couric. Remember all that talk about American news audiences turning the corner, and suddenly caring about more important issues? Not so fast.
It's not as if the other cable news networks have forgotten about the King of Pop. MSNBC's prime time anchors, Keith Olbermann and Alison Stewart (in for Rachel Maddow) spent several segments each on the story, while each of the FNC shows touched on the topic except Sean Hannity's.
But only CNN's Campbell Brown, Larry King and Cooper led with the story, finding new tangential angles which could loosely be classified as "breaking news."
Over on the broadcast networks, NBC Nightly News led with the Jackson story again last night, the only network to do so (noted by Glynnis). But it is CBS who is putting together another special on Jackson tonight, to air at 10pm, hosted by Couric. The move means two things for the struggling, third place CBS Evening News – it's sticking with Jackson news more than the other broadcast networks, and Couric is fronting yet another entertainment special.
Will the audience respond? Maybe. But as the Jackson story reaches Day 5, news judgment begins to be questioned.
—–
Have a tip we should know? tips@mediaite.com