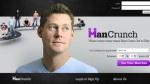 Yesterday, we carried a story about CBS's precedent-upending decision to run a "pro-life" advocacy ad by Focus on the Family during the Super Bowl. The ad is to feature Tim Tebow – the Heisman award-winning QB renowned, among other things, for his habit of quoting Hebrews with his eye-black.  In it, Tim and his mother recount, allegedly without visible embarrassment, the saga of Tim's conception, career as a fetus, and birth. You will be slightly less than astounded to learn that news of the ad has gone over very well with some, and very badly with others.
Today, FoxNews.com reports the latest move by the ad men at CBS, which is destined to compound or, at the very least, complicate the Tebow tiff: CBS is now considering running an ad by the (pungently titled) gay dating site ManCrunch. "The ad is still under review," a rep from CBS is reported to have said. "The process takes a little while. We still have a lot of ads we have yet to review."
By all descriptions, the advertisement is a blinding blizzard of taboo-breaking. It features three men immersed in the usual, loafing and oafish pleasures of watching sports -– only, when two brush hands while reaching for a fistful of potato chips, they forget the game for a spontaneous kiss. A vigorous, spontaneous kiss, it should be noted.
"ManCrunch officials said they believe CBS has no intention of airing a commercial for their gay dating service," Fox reports, " 'but do not want to officially reject the spot out of fear there may be a backlash from gay advocacy groups.'" CBS claims the allegations of insincerity are unfounded. Either way, it's rather exquisite, if still a little implausible, to imagine a world in which, for a million football fans, Spicy Doritos™ have become a trigger of sexual anxieties.
Anyway, at the risk of lowering the tone, I should mention I've heard a rumor that, in addition to vicious conflict with a high possibility of long-term brain damage, the Super Bowl may also feature some football . . .
Have a tip we should know? tips@mediaite.com