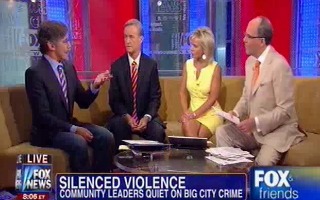 On Fox & Friends on Friday, Geraldo Rivera joined to cast to talk about a spike in homicides in Chicago that has left several children dead. He said that some of those shootings in Chicago occurred because the victim was wearing "thug wear," prompting him to gloat that, despite the criticism he received for the observation, he was right that Trayvon Martin was killed primarily because he was wearing a hoodie.

RELATED: Geraldo Rivera And Laura Ingraham Clash Over 'Hackery' In Fast And Furious Scandal
"I was right about the hoodie wasn't I," said Rivera. "I hate to brag, but I got criticized by every pundit in America when I said Trayvon Martin would be alive today but for the fact that he was wearing thug wear – he was wearing the hoodie. Turns out now that we look at George Zimmerman's interviews with the police; he didn't profile Trayvon Martin because he was black, he profiled him because he was wearing a hoodie."
"The headline is: Zimmerman is not a racist. Trayvon Martin would be alive today if he wasn't wearing thug wear, if he wasn't wearing that hoodie," said Rivera.
He went on to criticize civil rights leaders like NAACP head Ben Jealous and Rev. Al Sharpton for not taking on the issue of Martin but completely ignoring the murders in Chicago and in other ethnic neighborhoods in America.
"Where is that same feeling of concern in Chicago where 275 African-American kids have killed each other this year alone," asked Rivera. "Where is Jesse Jackson – it's his home town? Where is Al Sharpton? Where is the protest? Where is the concern?"
Rivera said that, while he is uncomfortable by the racial profiling that he sees in New York City's "stop and frisk" policy, he is more concerned that NYC could suffer an uptick in homicides similar to that in Chicago.
Geraldo said that he joined a protest march against "stop and frisk" recently, but he would like to see that kind of protest arise against violence in minority neighborhoods.
Watch the segment below via Fox News Channel:
> >Follow Noah Rothman (@Noah_C_Rothman) on Twitter
Have a tip we should know? tips@mediaite.com