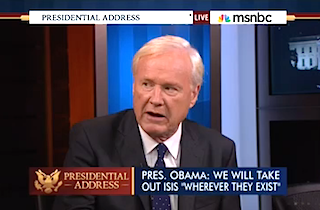 At the tail end of MSNBC's post-game analysis on President Barack Obama's address to the nation on ISIS, anchor Rachel Maddow gave each of her panelists the chance to share a few final thoughts. Chris Matthews, who earlier in the hour had criticized Obama for failing to outline a sufficient strategy, this time turned his attention to former Vice President Dick Cheney.
"Please do not listen to Dick Cheney," Matthews urged the president. "He's the one that created Al Qaeda by taking over the holy land in Saudi Arabia. He's the one that de-Bathisized the Iraqi government. He created ISIS, and he's coming back again with more advice."
Al Sharpton quickly agreed, saying Cheney and others "created" the mess in the Middle East and Senator John McCain (R-AZ) "supported" it.
Cheney has indeed been continuing to offer "advice" to President Obama and Republicans in Congress in light of the rise of ISIS, arguing for more "aggressive" military action in the region. Unlike Matthews, the Wall Street Journal editorial board said this week that Obama should concede that "Cheney was right."
"This is a president who is trying to make his international legacy that the United States works with international partners and that we do not do stupid stuff," Maddow ultimately concluded. "He carried forth those aims in what he said tonight. What happens because of this strategy will prove, though, whether or not it's right."
Watch video below, via MSNBC:
[Photo via screengrab]
— —
>> Follow Matt Wilstein (@TheMattWilstein) on Twitter
Have a tip we should know? tips@mediaite.com