Chris Matthews: 'I'll Admit There Is A Mainstream Media Favorite' Candidate, But They Never Win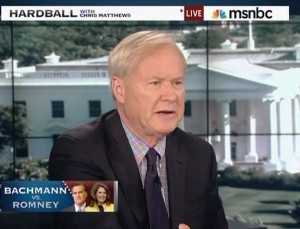 Chris Matthews was discussing the race for the Republican presidential nomination with Republican Strategist Todd Harris and Democratic Strategist Steve McMahon. While Matthews was at first interested in the competition between the "bankroller" Mitt Romney and the "true believer" Michele Bachmann, soon the conversation shifted to Matthews discussing the media's impact on showing favoritism towards potential presidential candidates in the past.
After a few clips of Bachmann played, Matthews said she was a "lively dancer," but wondered whether her husband's comments regarding gay people being like "barbarians" who need to be educated, would haunt her candidacy? Yet Harris responded that if the media is attacking Bachmann, then that's a sign she is doing something right, because if the mainstream media actually liked her then she would be in real trouble.
Matthews tried to combat Harris' implication saying, "I'll admit there is a mainstream media favorite at the time, but they never win." Matthews cited Mario Cuomo, Colin Powell and John McCain as candidates that the media fell in love with, but didn't actually go anywhere. Although many would claim it was somewhat strange that President Obama was left off of Matthews' media darling list?
Turning back to Romney, McMahon got in a parting shot to explain why many of Romney's fellow Republican candidates aren't fond of him. McMahon offered up an awkward partisan dig at Romney suggesting other candidates have a sense that he's always purchased what he wanted, not to mention the fact that people are jealous of him because he has a pretty wife, a pretty family and he's a pretty man.
Watch the clip from MSNBC below:
Have a tip we should know? tips@mediaite.com