Matthews: Is The Economy So Bad 'Not Particularly Well-Liked' Romney Could Beat Obama?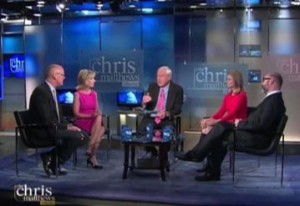 It's no secret that Mitt Romney does not exactly inspire people the way other politicians inspire. But Chris Matthews asked on his show today, if the economy continues to go down to unacceptable levels, would that allow Romney to become the first Republican president since Nixon "who wasn't especially liked." President Obama scores well ahead of Romney on the likability scale, but Romney's strongest suits with voters are his economic ideas and the belief that he will change Washington.
RELATED: Matthews: Romney 'Going To The Lowest Level Of American Politics' With Trump Appearance
John Heilemann added a few more metrics to what voters look for, including a strong sense of values, that Obama has the advantage of for now. Heilemann declared outright that Romney will never be as likable as Obama, and so the campaign is not going to waste time trying to fix that image. Instead, Heilemann argued, they need to make the entire election a referendum on the economy. Andrea Mitchell said that the jobs numbers released Friday are in no way good news for anyone, least of all the Obama campaign. She added that the lack of enthusiasm for Obama this time around may hurt his chances.
However, Andrew Sullivan argued merely taking a stand against Obama's economic policies is not enough, Romney needs to explain in no uncertain terms what he will do differently, not just from the current president, but from George W. Bush. Katty Kay disagreed, saying it's not really a winning strategy for the incumbent to say, "Yeah, things are bad under me, but what would you do?"
All four panelists believe that voters will blame the president personally for his attack ads on Romney. Kay said that despite the nonconnected Super PACs popping up everywhere, the tone of a campaign is struck by the candidate being supported by certain groups. Mitchell argued that going negative would adversely impact Obama's likability, and he's better off going through surrogates for the really strong attacks. Heilemann predicted both campaigns would just go incredibly negative no matter what.
RELATED: Matthews To Panel: 2012 Election Winner Will Be 'The One Who… Fights Dirty To Bury The Other Guy'
Sullivan warned that the ads need to carefully avoid getting too personal and stick to the issues. Heilemann added that while many voters might think they are politically closer to Romney than to Obama, they are certain not that close to the most conservative wing of the GOP, and the Obama campaign can reclaim an advantage by lumping Romney in with that category.
Watch the video below, courtesy of NBC:
Have a tip we should know? tips@mediaite.com
Josh Feldman - Senior Editor