Chris Matthews Trashes Mitt Romney PAC's Attack Ads Against Newt Gingrich: 'Newt Was Wronged'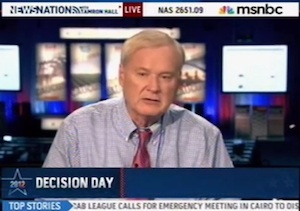 Appearing on MSNBC's NewsNation with Tamron Hall, Hardball host Chris Matthews called out Mitt Romney for relying on the unaffliated Super PAC Restore Our Future to politically cripple Newt Gingrich in Iowa.
RELATED: Chris Matthews Excuses Newt Gingrich's Tears: Politics 'Is A Brutal Business'
"It's been a bombing campaign by the Romney people. They destroyed their nationwide competition. Newt Gingrich is lucky to come in fourth or fifth after this relentless ad campaign that is 100% negative and run by the Romney people unofficially. It's called Restore Our Future. It has relentlessly 24-7 destroyed Newt Gingrich. I can only compare it to the Allied bombing of Dresden in World War II. It left nothing standing."
Hall asked Matthews why Gingrich didn't see this attack coming.
"What he's not used to is under this new court ruling, Citizens United, your opponent can run a terrible campaign and relentlessly destroy your reputation without putting your fingerprints on the ad. You don't have to say I'm Mitt Romney and I paid for this ad. So now in Iowa, where the people don't like negative campaigning, you can run the bombing campaign or destroy your opponent without having your face or voice associated with it. That's what Newt wasn't aware of. it's his fault that conservatives like them have gone along with these court decisions, that have allowed big contributors, wealthy people to put unlimited amounts of money into negative campaigns without putting the name of their favorite candidate in the ad. it destroyed gingrich. it's an amazing thing to watch out here. The destruction of a front-runner by someone in second place and now doesn't have an opponent because his wealthy friends destroyed that person you are looking at right now."
"My love is for democracy, Matthews continued. My sympathy is not for Newt. It's for democracy. Newt was wronged. That's hard for me to say this, but he was wronged by the system. I'm trying to be fair even to people I don't normally agree with."
Watch Matthews surprising heartfelt defense of Newt Gingrich from Mitt Romney-sympathetic PACs

Have a tip we should know? tips@mediaite.com