Chris Matthews Unimpressed By Obama's Speech, Praises Romney's 'Manliness,' 'Grace,' And Spirituality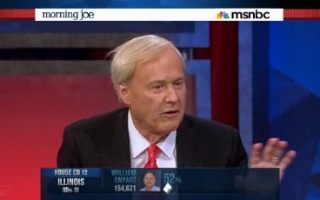 In a move that might shock more than a few cable news viewers, MSNBC's Chris Matthews shared that he wasn't exactly a fan of Barack Obama's election night victory speech, merely crinkling his nose when asked to react to it. He did, however, have many positive things to say about Mitt Romney's concession speech.
So, unwilling to say negative things about the newly re-elected President, Matthews focused instead on Romney's strengths. He commended, for instance, Romney's decision to stand at the podium by himself without the benefit of his wife or advisers.
"I mean, I thought Romney's speech last night was a piece of wonder," he said. (Anyone else think that sentence was going to end a bit differently?). "I thought the way he came out alone and stood in one, as they say on Broadway, right out there by himself — not with the wife, with the shoulder to cry on or any of that — stood out there with manliness and grace, and did absolutely everything right. 'I called the President. I wish him well.' This is out of the book. This is how you do it; it's Biblical. And every single thing was classic, perfect."
He also praised Romney for not laying blame on anyone else and for holding up his VP choice and his staffers. What's more, Matthews seemed genuinely impressed by what he referred to as Romney's "calm," which he ventured stemmed from the former governor's religious values.
Watch, courtesy of MSNBC:
Visit NBCNews.com for breaking news, world news, and news about the economy
Have a tip we should know? tips@mediaite.com