Chris Matthews Vows To 'Work On' Political Views Of His Son Which Are 'To The Left Of Obama'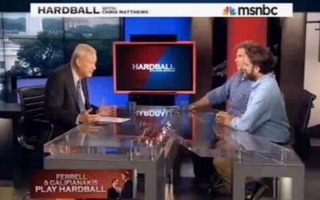 In promoting his role in the upcoming comedy film The Campaign, MSNBC host Chris Matthews talked with the stars of the film, Will Ferrell and Zach Galifianakis, on Tuesday. Matthews also talked about his son's political beliefs, which he described as being "to the left of [Barack] Obama." Matthews said he would need to "work on" that a little.

RELATED: Will Ferrell And Zach Galifianakis Give Hilariously Awkward Interview On CNN
Matthews played a clip of his role in the upcoming feature film and said that he asked his two sons if they believed movies like these would help move young people to the polls.
"What did they say," asked Ferrell.
"Well, they're going to vote because I'm going to talk to them about it and I'm going to encourage it," said Matthews.
"Although, one of my kids is now to the left of Obama, which I gotta work on a little bit," said Matthews. "He's a perfectionist. He's mad about GITMO – a lot of people are."
Matthews went on to ask if the actors felt that that movies like theirs which show "the evils of the Koch brothers" would discourage young people from voting.
One of Matthews' sons is also an actor and plays a prominent role in the HBO drama The Newsroom. It was not immediately clear if Matthew's was referring to him or another of his children when describing their politics.
Watch the clip below via MSNBC:
h/t Buzzfeed
> >Follow Noah Rothman (@Noah_C_Rothman) on Twitter
Have a tip we should know? tips@mediaite.com