Christie Slams Obama's 'Fantasy' That Obamacare Doesn't Have 'Major Problems'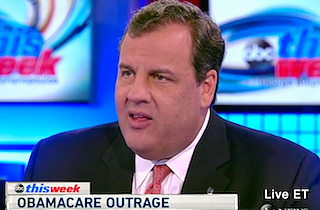 New Jersey Governor Chris Christie told ABC's George Stephanopoulos Sunday morning that President Barack Obama needed to speak forthrightly about the severity of the problems facing the Affordable Care Act, and that the troubled Obamacare rollout vindicated his decision not to construct a New Jersey health care exchange.
"The president's biggest problem right now is he's gotta tell the truth," Christie said. "I've told lots of hard truths in New Jersey that people didn't necessarily agree with, but they give you credit for looking them in the eye and telling them the truth."
"So let's get to that point. Let's own up, tell the truth about what's going on, then they can worry about whether he can work something out to fix the problem. But if you're working out of a fantasy that these are not major problems that need to be fixed and need to be addressed—this is what lots of us have been saying all along, about the fact that this was just too big for the government to handle."
Stephanopoulos noted that though Christie had not participated in the exchange, he did expand New Jersey's Medicaid program under the ACA.
"I do what's best for the people in the state of New Jersey every day," the governor responded, "and expanding Medicaid in the state of New Jersey—given how expansive our program already was—it's a relatively small expansion, but it's gonna mean a lot, and it's also gonna benefit New Jersey's budget."
"Here's what makes me different than a lot of these other guys," Christie continued. "I'm going to do what I think is right for the people who elected me, and a lot of these other folks are always trying to put their figure in the wind and see which way the wind's blowing that day. My job is to run the state of New Jersey; that's what I do every day; and the fact is, when you do that, people across the spectrum give you credit, and that's what those election results—61% of the vote on Tuesday—show."
Watch the clip below, via ABC News:
[Image via screengrab]
——
>> Follow Evan McMurry (@evanmcmurry) on Twitter
Have a tip we should know? tips@mediaite.com