Christine O'Donnell: Comparing ObamaCare To RomneyCare Is Like Comparing 'Motel 6 To The Four Seasons'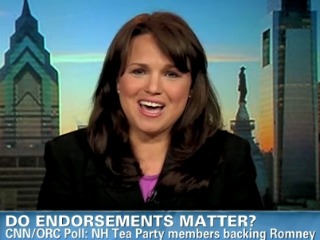 The endlessly quotable Christine O'Donnell is making the TV rounds once again, voicing her support for Mitt Romney as he prepares for this weekend's debates in New Hampshire in advance of Tuesday's primary.
Today, she spoke with CNN's Soledad O'Brien about Jon Huntsman's recent assessment of John McCain's Romney endorsement (For those of you who missed it: "Who cares?" Or, more accurately, voters don't necessarily respond when GOP establishment types dole out endorsements.)
RELATED: Jon Huntsman Reacts To Sen. John McCain's Romney Endorsement: 'Nobody Cares'
As O'Donnell sees it, Romney is also garnering support from figures who have had to "fight the establishment." Figures like, say, Christine O'Donnell:
Well, you look at the fact that Governor Romney has earned not only my endorsement but [former South Carolina] Governor Nikki Haley's endorsement, you know, figures who have had to fight the establishment. And the resounding message in that is that he has broad base appeal and that, you know, based on the feedback we have been getting from my supporters, it truly is causing people to take a second look because they know that based on Governor Haley's record, based on my record, we would not sell out like that.
RELATED: Christine O'Donnell: 'A Lot of People's Dislike For Romney Is Based On Misinformation'
Of course, O'Donnell and Haley supporters might still have some very specific concerns when it comes to Romney, particularly in the form of his so-called "RomneyCare." But, to O'Donnell, comparing the former Massachusetts governor's health care plan to "ObamaCare" is like comparing apples to oranges. Or like comparing two different hotel chains:
Obviously, one of biggest concerns of many Americans is ObamaCare and, you know to compare the Massachusetts health care bill to ObamaCare is like comparing, you know, Motel 6 to the Four Seasons.
Romney is the Four Seasons? Swanky. And quite a step up from a Marriott.
O'Brien also asked O'Donnell about South Carolina Tea Party leader Karen Martin's recent assertion that she does "not personally know anyone that does not despise Mitt Romney and doesn't hate the idea of him being our nominee."
RELATED: South Carolina Tea Party Leader Says She Doesn't Know Anyone 'That Does Not Despise Mitt Romney'
"I hope that that leader begins to take a look at Governor Romney," O'Donnell responded, "because he has the class, courage and convictions to stand up for some truly conservative principles in a liberal state like Massachusetts and that's overlooked."
Have a look, via CNN:
Have a tip we should know? tips@mediaite.com