Christine O'Donnell Defends Piers Morgan Walk-Out: 'Borderline Sexual Harassment'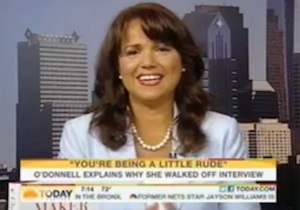 Judge solely by the amount of attention she has received this week, it's fair to say that Tea Party darling and aspiring media figure Christine O'Donnell has been successful at promoting her new book Troublemaker. But if you draw a distinction between the quantity and quality of media attention, well then perhaps its a different story all together. This morning O'Donnell showed up on NBC's TODAY and was fairly interrogated by Savannah Guthrie who questioned O'Donnell's previous explanations for why exactly she walked off of the set of Piers Morgan Tonight earlier in the week.
For the uninitiated, Morgan pressed O'Donnell on her position on gay marriage, a fair question seeing that it is a topic she includes in her book and is a controversial issue in the upcoming election season. Guthrie did not let the former Tea Party favorite off the hook, essentially asking her "what were you thinking in walking off the set mid-interview?"
Guthrie then challenged an assertion made by O'Donnell in a previous interview that Morgan was being somewhat sexist in his line of questioning, which led to the following exchange (rough transcript provided by TVEyes):
Guthrie: Let's talk about that because you said flat out you think this line of questioning was sexist. but how do you get to that? The fact of the matter is you have had — you've made these comments about masturbation in your past, in the '90s, and then you write about this in the book you are currently promoting. How is that not fair game? It is common practice to ask any politician, male or female, about their views.

O'Donnell: Right. I addressed — okay. I addressed the questions and I put it in context that, no, Ii would not do that interview again. I explained why I did the MTV interview in the '90s, but then it goes into a personal nature and starts prying. Imagine if Bill Clinton were there. Would he ask him, do you still hang out with Monica Lewinsky? Come on, we talked about it in the '90s? Do you still have that fascination with cigars, Bill? Come on, what's wrong with this? No. If he did ask a male former candidate about that the outcry would be that it belonged on pay-per-view and not a reputable network like CNN. It was an inappropriate line of questioning. I addressed it the way I do in my book. What's the same about this, Savannah, is the reviews that I've gotten, the people who have read the book, even if they disagree with me politically they tell me they finding it surprising and motivational story, that they really are enjoying the book. And all of this, you know, just like what happened in the campaign, the real message is being overshadowed. . that's a shame because he's doing it for ratings.

Guthrie: You say they are doing it for ratings. Let's be honest, you're wanting to sell books. Some people say it's a publicity stunt on your part.

O'Donnell: Please. I didn't want to do Piers Morgan, Honestly because I knew he resorted to these dirty tricks. no, it was certainly not a publicity stunt.
So not only does O'Donnell aggrandize herself by saying that she didn't want to "do Piers Morgan" (implying that she was somehow a "get" or that she was doing CNN a favor by appearing on the show), but she also likens the line of questioning — and her political stature perhaps — to that of former president Bill Clinton. Huh?
The bottom line is this: whatever O'Donnell is doing to get attention is working. Whether its the sort of attention that will reclaim any sort of reputable image, sell books or just reinforce what many in the public already think of her remains to be seen.
Watch the clip below, courtesy of NBC:
Have a tip we should know? tips@mediaite.com