CNN Anchor: 'Be Happy,' Traffic Jams Are 'A Sign That The Economy Is Improving'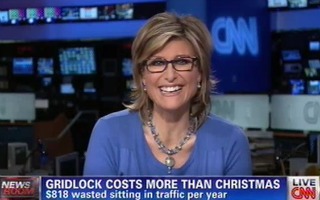 CNN anchor Ashleigh Banfield related a shocking bit of information to her audience on Tuesday. Skyrocketing gasoline prices mean that Americans are wasting more money than ever sitting in traffic, but there is a silver lining. While those traffic jams may be draining your wallet, CNN reports that they are also a sign that the overall economy is improving.

RELATED: CNN's Ashleigh Banfield: Pedophilia, Incest Often 'Not By Choice,' But Being Gay Is 'A Lifestyle Choice'
"If you're out there and your thinking that all the gas that you're buying is expensive – yeah, it is. And it turns out that you're wasting a ton of it in traffic," Banfield began.
Banfield reported that traffic jams cost commuters an average of $818 per year. "But are you ready for this?" Banfield warned her viewers. "The traffic that you're sitting in is a sign that the economy is improving. So, you can be happy about that."
"It's one of those good news/bad news stories," Banfield told CNN Reporter Christine Romans.
"It is a sign of a strengthening economy because it means you're driving to work, more people are driving to work, it means more deliveries are being taken by truck on the roads, and it also means that those bridges are being fixed – some of those delays are because, you know, there's infrastructure work being done," Romans reported.
She said that the average time commuters spend in traffic is up four hours from a low point in 2010 during the slowest point in the economic recovery.
Watch the report below via CNN:
> >Follow Noah Rothman (@NoahCRothman) on Twitter
Have a tip we should know? tips@mediaite.com