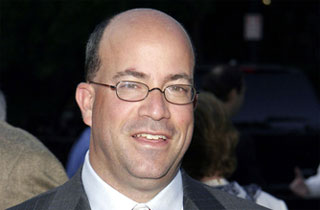 Here's a somewhat bizarre factoid; CNN head honcho Jeff Zucker keeps a framed Donald Trump tweet praising the network in his office.
That tidbit comes from a Tuesday profile of Zucker in Variety:
At his New York headquarters, Zucker works from a modest office — with an open-door policy — on the CNN newsroom floor. He has 11 TVs mounted on the wall, so he can keep track of his competitors, and he's such a news junkie, he reads six daily papers in print. (He displays a framed tweet by Donald Trump complimenting CNN, written many months ago.)
In the same profile, Zucker defended his network's coverage of Trump. "There's a misconception we're doing this all for ratings," he said. "We're covering all of the news."
Zucker in particular defended the hiring of controversial former Trump campaign manager Corey Lewandowski as a contributor. "The reason we hired Corey is that now that we are in the general election, I think it's really important to have voices on CNN who are supportive of the Republican nominee. It's hard to find a lot of those," he argued.
CNN's critics and competitors have accused Zucker of being too close to Trump in the past. MSNBC's Morning Joe host Joe Scarborough once claimed that Zucker even calls Trump personally to book him for CNN interviews (a CNN source later partially confirmed the anecdote to Mediaite's Tommy Christopher, saying Zucker books all big-time interviews, not just Trump).
——
>>Follow Alex Griswold (@HashtagGriswold) on Twitter
Have a tip we should know? tips@mediaite.com