CNN Debate: Did Clarence Thomas Go Too Far By Saying First Black President Needed Media's Approval?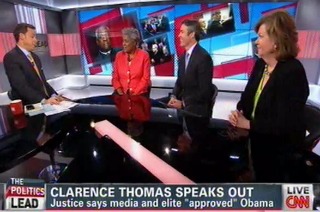 The panel guests on CNN's The Lead with Jake Tapper engaged in a heated debate on Monday over comments made by Supreme Court Justice Clarence Thomas in which he claimed that the first black president needed to have the media's approval in order to be elected. Some panel guests said that Thomas' comments reflected his bitterness over his treatment by the political press, while others added that his observations about President Barack Obama were largely true.

RELATED: Justice Clarence Thomas: Obama Was Elected Because He's 'Approved' By 'Elites And The Media'
Speaking at a Duquesne University forum in April, Thomas said that he was not surprised that he saw an African-American President of the United States in his lifetime. He added that he felt it was necessary for the first minority president to be "approved by the elites" and "the media."
"Because, anybody they didn't agree with they would take apart," Thomas said.
"He's still angry," Tapper observed.
"A little bitter, maybe," Democratic strategist Donna Brazile agreed. "I never thought I would see an African-American president in my lifetime."
She said that Rev. Jesse Jackson and former Rep. Shirley Chisholm (D-NY) "paved the way" for prominent African-Americans to run for the White House. Brazile added that Thomas holds his own position in history as the second black justice on the Supreme Court. "Let's hope he's not the last African-American to serve on the court," she concluded.
Former advisor to Mitt Romney's presidential campaign, Kevin Madden, said he did detect a note of personal grievance towards the media in Thomas' comments. However, Madden said that Thomas has a point. "[Obama] was always painted by a liberal media as more of a moderate, as more of a unifier, whereas conservatives like him have always been painted as divisive," Madden said.
"If Clarence Thomas thinks that the media's preferred candidate always wins elections, not really the case," added USA Today Washington Bureau Chief Susan Page.
Watch the segment below via CNN:
> >Follow Noah Rothman (@NoahCRothman) on Twitter
Have a tip we should know? tips@mediaite.com