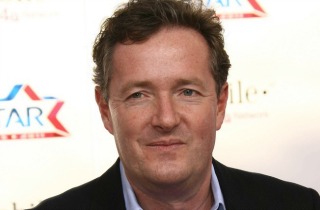 CNN has finally spoken up in defense of Anderson Cooper after a round of sniping from his former colleague Piers Morgan.
Morgan has spent the last several days giving interviews to promote his new gig as an editor at the Daily Mail and talk about how bad he wants a career on TV in the U.S. again. Along the way, he's also aired out some dirty laundry at CNN and blamed Cooper for some of the channels woes, including for the low ratings of Morgan's former program, which proceeded Cooper's.
"For the two-and-a-half years that AC 360 served as the lead in to Piers Morgan's program on CNN, it always delivered a higher rating than Piers' program," CNN publicist Megan Rivers told Politico Thursday. "And for the seven months that Piers Morgan's program led into AC 360, 360 always delivered a higher rating than Piers' program. It is sad that Piers is trying to find a new job by misrepresenting how he performed in his old one."
Morgan responded to the comments in a series of tweets, saying he's not "remotely sad."
"I have a great new job at MailOnline, and when I came off air in March, [CNN head] Jeff Zucker congratulated me on a 'splendid, terrific run.'"
Morgan also took another jab at Cooper, referring to an old reality show Cooper once hosted.
"As for Anderson, I thought he was terrific on The Mole."
My response: 'I have no wish to get into a Reservoir Dogs sequel with CNN. However, let me just respond by saying I'm not remotely sad…1/4

— Piers Morgan (@piersmorgan) October 9, 2014
'I have a great new job at MailOnline, and when I came off air in March, Jeff Zucker congratulated me on a 'splendid, terrific run' …' 2/4

— Piers Morgan (@piersmorgan) October 9, 2014
'and formally offered me a 7-figure sum to make 40 interview shows over the next two years. I didn't realise he was joking!' 3/4

— Piers Morgan (@piersmorgan) October 9, 2014
'As for Anderson, I thought he was terrific on The Mole.' 4/4

— Piers Morgan (@piersmorgan) October 9, 2014
[Photo via Shutterstock]
Have a tip we should know? tips@mediaite.com