CNN Guest Argues Trump's 'Drain the Swamp' Rhetoric Is an Appeal to Racists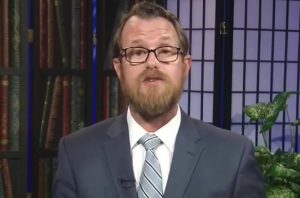 During an interview with CNN Tuesday, Southern Poverty Law Center senior editor Ryan Lenz claimed that president-elect Donald Trump's use of the term and hashtag "Drain the Swamp" was a dogwhistle intended as a subtle wink to white supremacists.
"Yesterday, Donald Trump released his 100-day plan on YouTube, and he announced some very thorough, specific things he was doing by executive action. And he referenced a phrase… he said he's going to 'drain the swamp,'" Lenz noted.
"#DrainTheSwamp' was a meme, a Twitter hashtag that grew– exploded, really– after Donald Trump came forward with allegations it was a rigged election. And it was spread specifically– among the people spreading the #DrainTheSwamp hashtag were avowed racists, white supremacists who exist on Twitter to harass and demean various ethnic groups," continued Lenz.
"So we have a little bit of a two-sided message here," he concluded. "Yeah, he's saying stop [committing hate crimes], but he's also, you know, giving a wink-wink, nod-nod to the very people he's asking to step away from their violence."
CNN host Jon Berman pushed back a little against that narrative. "We should note, different phrases can mean different things to different people," he said.
"There are plenty of people who are in favor of 'draining the swamp'– not having lobbyists involved and taking some of the money and donations out of politics– that I'm sure have no notion at all that it is anyway connected or supported by groups like this," Berman argued.
Watch above, via CNN.
[Image via screengrab]
—
>>Follow Alex Griswold (@HashtagGriswold) on Twitter
Have a tip we should know? tips@mediaite.com