CNN Host Brian Stelter Criticizes Crossfire Disclosure Policy: 'CNN Can Do Better'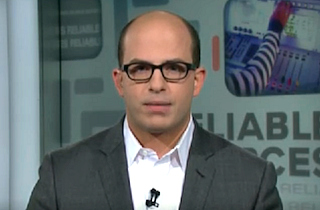 CNN's revamp of Crossfire has come under fire twice in the past two weeks, most notably when it "clarified" its policy about hosts' disclosures of their financial contributions to political figures when discussing or interviewing those figures. On CNN's Reliable Sources Sunday morning, interim host Brian Stelter chastised the network for this revision.
"Newt Gingrich is not a reporter, that's true," Stelter said. "Crossfire is not a news show; that's true, too. But it's on a news network, where the standards are high, and the employees strive for excellence. So you, the viewer, should know what Gingrich and Stephanie Cutter and Van Jones and S.E. Cupp are up to, just like you should know what Sean Hannity is up to."
"CNN can do better than this," he said. "It can start by debating its very issue of disclosure on Crossfire."
Gingrich fronts a PAC that made a donation to Senator Rand Paul (R-KY), who was a guest on the first episode of the new Crossfire. CNN official Rick Davis had originally told Media Matters that hosts would disclose any contributions, but then revised the policy following the Gingrich revelation, a decision Stelter said was "mocked all over the place."
Stelter noted that there is no clear precedence for when political pundits, as opposed to reporters, are supposed to disclose contributions; Hannity gave money to Michele Bachmann without reprimand from Fox News, while Keith Olbermann was suspended by MSNBC for a similar action.
"Employing political pundits is a choice," Stelter said. "News networks don't have to do it. It's a lot easier when they don't. If they're going to employ political pundits, networks should bend over backwards, even flip over, to make sure viewers know what those pundits are up to. And there are lots of people in this building who try to do that every day."
Watch the full clip below, via CNN:
[Image via screengrab]
——
>> Follow Evan McMurry (@evanmcmurry) on Twitter
Have a tip we should know? tips@mediaite.com