CNN Reporter Quotes Tulsa Shooting Suspect's 'F*cking N*gger' Facebook Post On-Air
Reporter Quotes Tulsa Shooting Suspect's 'F*cking N*gger' Facebook Post On-Air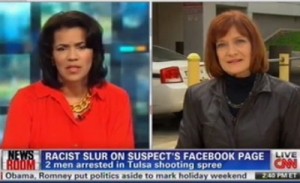 Two suspects are in custody over a shooting spree that left three dead and two critically wounded in Tulsa, Oklahoma on Friday. All 5 victims were black, while the suspects are both identified as white, although the AP reports a family friend described 19 year-old suspect Jacob England as "Cherokee Indian."
In reporting on the arrests this afternoon, CNN reporter Susan Candiotti read, uncensored, a Thursday posting from Jacob England's Facebook account, which said "Today is two years that my dad has been gone, shot by a fucking nigger."
Candiotti warned viewers beforehand to "Please excuse the language, it's very sensitive," then read aloud from that (now-deleted) Facebook account. Here's the uncensored clip of Candiotti's report, from CNN:
In addition to anchor Fredricka Whitfield's apology, TV Newser reports that Candiotti also later apologized, saying "In quoting someone else's words, I repeated their offensive and inappropriate language. I deeply regret it."
Ironically, the very subject of censoring the n-word came up on CNN's air Saturday night, as anchor Don Lemon and panelist Goldie Taylor let the epithet loose a few times, and Lemon argued that, in the context of a news report, "I don't care what color the reporter is, I think someone should say 'that person called him a nigger,' rather than 'the n-word,' because it sanitizes it."
A few weeks ago, CNN also aired uncensored audio of a 911 tape that featured Trayvon Martin shooter George Zimmerman grumbling the word "fucking" along with a hotly debated noun. While an apology may have been prudent, given these factors, Candiotti shouldn't face any sort of reprimand.
Despite England's Facebook post, and the fact that England and fellow shooting suspect Alvin Watts targeted five black people in their attacks, police and FBI told the AP it was too early to say whether the crimes were racially motivated. Also from The Associated Press:
Police Chief Chuck Jordan said the gunmen appeared to have chosen their victims at random. Police identified those killed as Dannaer Fields, 49, Bobby Clark, 54, and William Allen, 31. Two men were wounded but were released from the hospital, Jordan said.
Coming, as it does, in the midst of the highly-charged atmosphere surrounding the killing of Trayvon Martin, the Tulsa shootings figure to deepen an already intense national discussion about race.
(h/t Chris Ariens, TV Newser)
Have a tip we should know? tips@mediaite.com