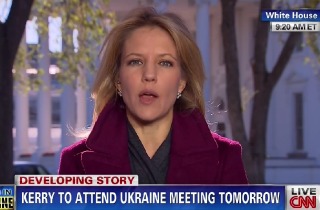 As the crisis in Ukraine worsens this week, CNN White House correspondent Michelle Kosinski reported on Wednesday that President Barack Obama's administration is taking a more "aggressive" approach to the situation. She says that, while the White House is still focusing on diplomatic resolutions to the crisis, they are now considering stronger sanctions against Russia and sending more non-lethal military aid to Ukraine.

CNN anchor Carol Costello reported on Wednesday that Secretary of State John Kerry will travel to Switzerland on Thursday to meet with Ukrainian, Russian, and European Union representatives to discuss the crisis.
"For the past many weeks, as this has been going on, the U.S. hasn't wanted to do anything that seems too invasive into this situation — anything that would be too provocative," Kosinski reported.
RELATED: Ukrainian Troops Seize Control of Airfield Held by Separatists
"It's easy to say, 'Why don't we put people there,' in terms of troops there, but what would really be the point of that? Especially when [Russian President Vladimir] Putin has been making these outrageous moves?" she continued. "Wouldn't that possibly escalate the situation even further?"
She reported that, while the U.S. has ruled out providing lethal military aid to Ukraine, they are not ruling out tactical, non-lethal military aid. "And, in terms of sanctions, the White House is now being more, I would say, possibly aggressive, in saying 'We are actively considering doing more,'" Kosinski added.
"Diplomacy has been the way to go here," Kosinksi concluded, adding that the administration is waiting to see how committed Putin is to a diplomatic resolution to the crisis.
Watch the clip below via CNN:
[photo via screengrab ]
 — — 
>> Follow Noah Rothman (@NoahCRothman) on Twitter
Have a tip we should know? tips@mediaite.com