Must Reads: How Will GOP Lawmakers Respond to Constituents Helped by Obamacare?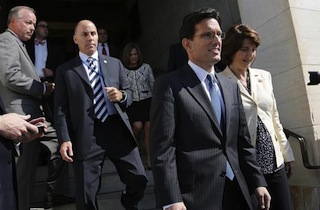 Every a.m., Mediaite publishes a primer of what the interweb machine is writing, talking, tweeting, and blogging about, so that you may fool friends and family into thinking you are a trove of information and insight. Today: anti-Obamacare lawmakers encounter constituents helped by the law, Russia's unprecedented propaganda campaign, how the Pulitzer for NSA coverage doesn't have to endorse Snowden, and more.

"Giving Anti-Obamacare Speeches to Enrollees" (Paige Winfeld Cunningham and Seung Min Kim, POLITICO)
In a flip of the usual narrative, in which Democratic lawmakers get Obamacare hung around their necks by the so-called horror stories, POLITICO presents anti-Obamacare lawmakers encountering constituents who have benefited from the law. It's the very dilemma Democrats warned and Republicans feared would emerge once the law was implemented (hence the gov't shutdown): how do you run on taking away popular health care provisions, or people's health insurance as a whole, once they've got them?
No politician wants to sound eager to take government benefits away from voters — and while public opinion polls show the health care law is still controversial, millions of people are indeed getting assistance. Especially in states where enrollment finished strong, Republicans will need a nuanced message: Even if Obamacare helped you personally, it's still bad for the country as a whole.
Republicans are hoping to run on a replacement plan of their own, though as one aide pointed out the other day, they're having a tough time coming up with a replacement that contains all its popular provisions of the Affordable Care Act that isn't the Affordable Care Act.
"Will Slowdown in Health-Care Spending Growth Persist?" (David Wessel, Wall Street Journal)
David Wessel has a quick pro/con on the decline in the growth of health care spending, and whether it will persist. Short answer: probably not, as health care spending is tied to the economy, "but with a long lag"; as the country slowly claws out of the 2008 recession, health care spending will eventually pick up.
The more interesting question will be whether the ACA accelerates health care spending due to the new (and, at first, sicker) people on the rolls, or whether it will cut back on spending due to those people getting earlier, better, and more preventative care.
"Russia Is Quick to Bend Truth About Ukraine" (David Herszenhorn, New York Times)
David Herszenhorn on the Kremlin's "brazen" — and largely successful — propaganda campaign to convince its domestic audience that Ukraine poses a clear and present (and U.S.-induced) danger:
In essence, Moscow's state-controlled news media outlets are loudly and incessantly calling on Ukraine and the international community to calm a situation that Ukraine, the United States and the European Union say the Kremlin is doing its best to destabilize.

[snip] "We can't trust anything. Even with the Soviet propaganda, when they were talking with the Soviet people, there were some rules. Now, there are no rules at all. You can invent anything."
"The Pulitzers Didn't "Vindicate" Anything Except Good Journalism" (Marc Tracy, New Republic)
Is the Pulitzer for the Guardian and Washington Post for their NSA reporting an implicit or explicit endorsement of Edward Snowden? Both Snowden advocates and Snowden critics are making the case, but Marc Tracy disagrees and finds an interesting ally in doing so:
John Yoo, of all people, gets this. He certainly has his motives—among them his belief that Snowden should be jailed "for as long as possible" (maybe Yoo can write a memo that unconstitutionally extends Snowden's potential jail-term). But his analogy for the Pulitzer win was apt: He told Byers, "I don't think we need automatically read the prize as a vindication for Snowden's crimes. Awarding a prize to a newspaper that covered a hurricane does not somehow vindicate the hurricane." No matter what one thinks of Snowden's behavior, he produced incredibly newsworthy scoops, and the journalists who reported them deserve acclaim.
"What if Bundy Ranch Were Owned by a Bunch of Black People?" (Jamelle Bouie, Slate)
Fair question:
Would Fox News applaud black militiamen aiming their guns at white bureaucrats? Somehow, given the degree to which right-wing media traffic in racial paranoia, I think we'd be looking at a different situation if the Bundy Ranch belonged to a bunch of black people. And as someone who closely follows the regular incidents of lethal police violence against blacks and Latinos, I also wonder whether law enforcement would be as tepid against a group of armed African-Americans. Judging from past events, I'm not so sure.
[Image via Jonathan Ernst/Reuters]
——
>> Follow Evan McMurry (@evanmcmurry) on Twitter
Have a tip we should know? tips@mediaite.com