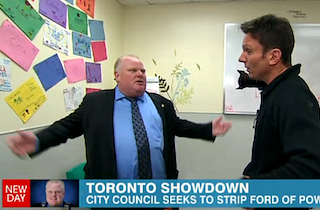 CNN's Bill Weir attempted to interview embattled Toronto Mayor Rob Ford on New Day Monday morning, but ended up lighting Ford's short fuse, resulting in the mayor embarking on a profanity-laden tirade before being calmed by his brother.
Ford invited Weir to see him in action, taking him to a housing project where he's popular as "the guy you call when the eviction notice comes," and where Weir asked him why he had finally admitted to smoking.
"I'm not gonna run around and be phony and lie," Ford said. "I was tired of all these allegations and bullsh*t. Excuse my words. Sorry, I shouldn't swear in front of the kids." (At this point, the children appear to be moved out of the room.)
Ford claimed that he had been honest with reporters, who had asked if he was a crack addict, rather than whether he had ever smoked crack. When Weir accused him of playing with semantics, Ford lost it.
"Typical media," he bellowed. "You guys are all cut from the same cloth. You can spin it any way you want."
Ford's brother Doug tried to calm him down, but the interview progressed when Ford demanded to know if Weir had ever gotten drunk. Weir responded that of course he had, but he wasn't running a city. "I don't look at myself as the mayor," Ford said. "I look at myself as a normal, regular person."
He also told Weir he was honest with his children about the news reports of his behavior.
"I'm the best father around," Ford said. "I'm going to explain to them what they're hearing. I'm straightforward with my kids. What, you just dismiss them, you just walk away? I don't walk away from anyone, Bill."
Watch the clip below, via CNN:
[Image via screengrab]
——
>> Follow Evan McMurry (@evanmcmurry) on Twitter
Have a tip we should know? [email protected]