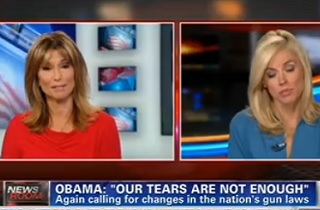 Over the weekend, NRA executive vice president Wayne LaPierre and United States President Barack Obama each delivered remarks on the mass shooting at the Washington Navy Yard, and on gun violence. This morning, CNN anchor Carol Costello injected a bit of much-needed clarity into the "both sides" narrative that the network has been using to frame these remarks, in what passes for "objectivity" on cable news these days.

While LaPierre appeared on Meet the Press to push his usual mix of talking points (more guns) and self-defeating logic (we need better background checks, that we will then not require people to pass?), President Obama spoke at a memorial to those slain in the mass shooting, once again explaining the objective facts about how poorly America compares to the rest of the developed world in eliminating gun violence, despite a public that overwhelmingly favors doing so.
All Monday morning, CNN played a package of reporting on these two viewpoints as though their speakers were equal, their arguments were comparably legitimate, and their share in the blame for legislative inaction were the same. Earlier versions of this reporting featured variations on this quote: "What's clear, this debate will continue, with both sides still unwilling to yield."
But the fact is, the people who favor sensible gun regulation that's supported by overwhelming majorities have consistently yielded, bending themselves into pretzels to make new laws as minimally-invasive as possible, and even letting the NRA help to craft them. There's also, objectively, no comparison between the President's remarks, which are based on facts, and LaPierre's, which are based on saying whatever he has to to keep facts from interfering. Finally, there's nothing resembling equal footing between the President's point of view, which is held by overwhelming majorities of Americans, and LaPierre's, which is held by overwhelming majorities of the Nugent family.
On CNN Newsroom, anchor Carol Costello listened to reporter Pamela Brown's summation of the "tennis match of point-counterpoint" between the President and LaPierre, and in a small gesture toward true objectivity, said "I don't know, Pamela. We've seen this sad movie before, with Mr. LaPierre."
"I sure have," Brown agreed.
"At the end of the day, nothing will change, because it hasn't so far yet, right?" Costello added.
"You're right," Brown replied. "We're hearing the same talking points. Nothing has changed, and that was really part of the President's tone during his speech yesterday."
Whether you think inaction on gun regulation is a feature or a bug, the objective truth is that "both sides" are not the problem. It is not "objective" to pose two inherently unequal points of view as equal, nor to leave aside their factual merits. For at least a few seconds today, CNN's viewers were exposed to that truth.
Here's the clip, from CNN Newsroom:
[photo via screengrab]
Have a tip we should know? tips@mediaite.com