CNN's Christiane Amanpour Hammers Syrian U.N. Amb. for Defending 'Victim' Assad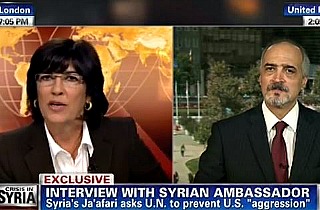 Syria's ambassador to the United Nations, Bashar Jafari, joined CNN reporter Christiane Amanpour on Tuesday to discuss the ongoing debate in the West over military intervention into that country's ongoing civil war. Jafari told Amanpour that Bashar al-Assad's regime is not comprised of "warmongers" and that his country is a "victim" of international aggression.

In a wide-ranging interview, Jafari began by criticizing the West for reverting to the thinking that violence can bring about an end to the violence in Syria. "We are not warmongers," Jafari said. "We are a peaceful nation – a small nation – and we don't pretend to be equally strong enough to confront the United States military."
"We are a victim of any aggression that might happen at any time," he added.
Amanpour challenged Jafari's assertion that Syria is the "victim" in this conflict. She cited the defection of a Syrian military expert who will confirm the belief that chemical weapons were used against civilians. Jafari said that the claim that chemical weapons were used is "unfounded."
"You can repeat the same mistakes that the previous American administrations did at many times," Jafari said, citing the Vietnam and Iraq wars which were conducted on the basis of faulty intelligence.
RELATED: Laura Ingraham Mauls 'Neo-Cons' Supporting Syria: Not 'Another Ill-Conceived, Undefined War'
"I'm really afraid that we are repeating the same tragic and regrettable scenario in Syria today," Jafari said.
Amanpour said that, unlike Iraq, Syria does have chemical weapons and independent observers have confirmed their use. Jafari confirmed that nerve gas was used in Syria, but they were used by the opposition forces on civilian population centers.
Amanpour interrupted him, insisting that the opposition does not have the capability to use chemical weapons. "It kind of beggars belief, sir – and this is unfortunately a historical precedent – to think that people are gassing themselves," Amanpour said.
The pair battled over the validity of reports which indicate that the Syrian government had used chemical weapons. When Amanpour asked if Syria would accept a United Nations team to have access to supposed sites where weapons were used, Jafari said that this proposal was not acceptable until the threats of foreign intervention had subsided.
He added that Israel's nuclear arsenal is the "most dangerous weapon of mass destruction" in the region.
Watch the clip below via CNN:
— —
> >Follow Noah Rothman (@NoahCRothman) on Twitter
Have a tip we should know? tips@mediaite.com