CNN's Cuomo on Lethal Injection: 'We Want to Kill, But We Want to Feel Good About it'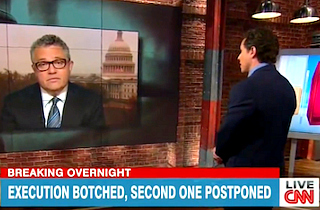 Following Oklahoma's botched execution of an inmate last night, New Day host Chris Cuomo asked CNN legal analyst Jeffrey Toobin why lethal injection was so cherished by states that allow the death penalty, with the two men agreeing that it was an attempt to solve the conflict between wanting to execute prisoners without seeming barbaric.

"There's a paradox at the heart of it," Toobin said. "We have to kill people, but we have to do it in a way that satisfies our rules. Now, there's an inherent contradiction there. If you're killing someone, obviously the safety and effectiveness of the drugs is not something you would ordinarily think about. But the FDA, regulates all drugs, including death penalty drugs."
"We want to kill but we want to feel good about it?" Cuomo said. "Is that what it is?"
"You know, that's exactly right," Toobin replied. "That's why we struggle with this problem, because those goals seem to be inherently contradictory."
"At the end of the day, it's not about the method, it's about the purpose," Cuomo said. "Either you're comfortable killing, or you're not."
A secretive drug mixture was administered to an Oklahoma inmate late Tuesday night, but failed to kill him, instead inducing spasms; he died of a cardiac arrest not long afterward. Oklahoma Governor Mary Fallin (R) stayed the second execution scheduled for that night and order a review of the process.
Following the segment, CNN turned to MH370.
Watch the clip below, via CNN:
[Image via screengrab]
——
>> Follow Evan McMurry (@evanmcmurry) on Twitter
Have a tip we should know? tips@mediaite.com