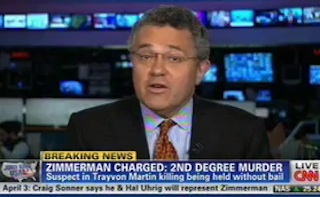 Following special prosecutor Angela Corey's announcement that George Zimmerman would be charged with second-degree murder in the shooting death of Trayvon Martin, CNN senior legal expert Jeffrey Toobin weighed in on the new developments and what they meant going forward. "She threw the book at him," Toobin observed.
RELATED: Special Prosecutor Charges George Zimmerman With Second Degree Murder
John King was curious of Toobin's reaction that Corey decided to go with a charge of second-degree murder which could carry life in prison instead of a lessor charge of manslaughter.
"This is a very, very major charge," Toobin explained. "It carries the potential of life in prison. The jury instruction that the jury will receive is, he can only be convicted if he showed a depraved attitude towards Trayvon Martin's life. That's a tough burden for a prosecutor to meet but she has access to facts that we don't. The missing couple of minutes where in-between the 911 call that Zimmerman made and the shots being heard on the other 911 call, we don't know what happened there but there may be other evidence, there may be witnesses that the public doesn't know about and apparently, it was enough to let the prosecutor bring these charges."
"Just one larger point i would like to make," Toobin added. "Florida has what's known as the Sunshine Law. It is the law that says all government activities are virtually open to the public. Cameras are virtually always n the courtroom. This trial will be a trial on television. That is something that all of us can think about the implications of that. But Florida is different. And they will have a trial like this."
Watch Toobin's immediate reaction below via CNN:

Have a tip we should know? tips@mediaite.com