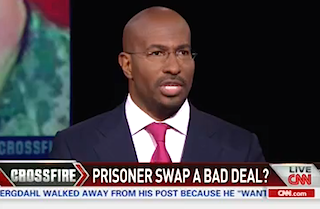 Has the prisoner swap that will bring U.S. Army Sgt. Bowe Bergdahl home after five years in captivity and send five Taliban detainees to Qatar already turned into the latest "scandal" for the Obama administration? On CNN's Crossfire Thursday, host Van Jones charged the Republicans are trying to make this story President Barack Obama's new Benghazi.
"I've been really shocked to see how aggressive people have gone after the president for bringing an American soldier home," Jones said, before laying out the "narrative" that he sees forming on the right.
"The narrative is, let's take this guy, this soldier we got home, diminish him, turn him into some kind of a caricature, 'we don't know if he's a traitor,' say negative things about him, insult his family," Jones said. "And then take the five that were released and build them up into this mega-threat against us and say the president of the United States is a traitor who turned in a traitor to let out our enemies."
"Is that the kind of Benghazi-azation of this thing that you think is appropriate for Republicans?" he asked his conservative guest.
Sen. John Hoeven (R-ND) told Jones that's not what Republicans should be doing, saying, "we need to deal with the facts" but adding that he wished Obama had consulted Congress before making the decision.
On the other side, Sen. Sheldon Whitehouse (D-RI) agreed, saying the president should have gone to the chair of the House Intelligence and Senate Armed Services committees. "As a general proposition, I think they would have saved themselves a fair amount of grief if they had read some of our colleagues who had the appropriate committee position into what was going on," he said.
Watch video below, via CNN:
[Photo via screengrab]
— —
>> Follow Matt Wilstein (@TheMattWilstein) on Twitter
Have a tip we should know? [email protected]