CNN's Will Cain Likens Herman Cain's Harassment Charges To Dominique Strauss Kahn Affair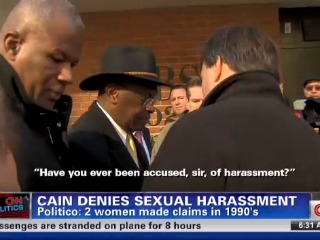 This afternoon on CNN, contributors LZ Granderson and Will Cain took a look at Herman Cain's response to the question "Have you ever been accused, sir, of sexual harassment?" The question was posed to an outwardly calm Cain as he was in the midst of signing autographs. Cain initially met the question with what appeared to be a wry, "I can't believe you're asking me this" smile, and then silence, before eventually throwing the question back at the reporter.
Granderson's take? If Cain is indeed so full of answers and unafraid to "tell it like it is," then "why not just answer the question, dude?"
Will Cain, meanwhile, believes we should all just slow down a bit and not automatically assume guilt. It wasn't so long ago, remember, that Dominique Strauss-Kahn was accused of rape in a case that ended up being taken over — and very much colored — by assumptions legitimized through rampant media coverage. He also rightly pointed out that it's uncertain what such allegations, if they turn out to be true, will mean for Cain's political careers. Such allegations put the brakes on John Edwards' career, for instance, but slid off Bill Clinton as if he were made of Teflon.
RELATED: Herman Cain: Unaware Of Any Settlement Over 'Baseless' Sexual Harassment Charges
Granderson would later dismiss recent statements by Ann Coulter's likening liberals' treatment of Cain over these allegation to a "lynching," saying this isn't about "lynching" Cain, but simply about asking him not to act in a hypocritical manner.
Have a look at their discussion, courtesy of CNN:
Have a tip we should know? tips@mediaite.com