Colbert: Hoodies Make One Look Like A Criminal Like Suit & Glasses Make Geraldo Look Like A Journalist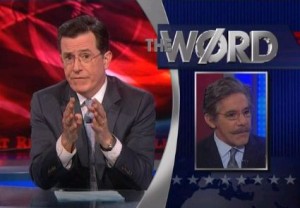 On The Colbert Report Monday night, Stephen Colbert wholeheartedly agreed with Geraldo Rivera's assertion that hoodies were just as much responsible for Trayvon Martin's death as George Zimmerman. "Yes, it was the hoodie's fault!" Colbert exclaimed. "A hooded sweatshirt can make an innocent teen look like a criminal. Just like a suit and glasses can make Geraldo Rivera look like a journalist!"
RELATED: Geraldo Rivera: 'The Hoodie Is As Responsible For Trayvon Martin's Death As George Zimmerman'
Galvanized by Rivera's comments, Colbert took it upon himself to run with Mediaite's Tommy Christopher bold suggestion, and call upon Congress to act swiftly in passing anti-hoodie legislation.
"I believe this is urgent!" Colbert stressed. "Congress must pass strict hoodie control legislation. It is terrifying to live in a country where you could walk into any Wal-Mart and buy a hoodie right off the rack! No background check! No seven day waiting period! Now, many parents keep their hoodies in an unlocked drawer where their kids can get at them. That is why my hoodies are hidden in the back of my gun closet! Plenty of room in there! Because i keep my guns in my pocket in case anyone comes for my hoodies!"
Colbert noted that the "good people" at Fox News have taken matters into their own hands by yanking the dangerous apparel from their online store.
"Well, thank goodness they did that because their viewers could have bought those hoodies and then formed a motorcycle gang!" Colbert gushed.
Watch Colbert's advocacy of hoodie control legislation below via Comedy Central:

Have a tip we should know? tips@mediaite.com