Colbert Relentlessly Mocks 'Silly' Idea To Solve Debt Crisis With Trillion-Dollar Coin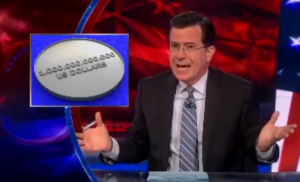 In his first show back after an extended holiday vacation, Stephen Colbert chose to look forward to the oncoming debt ceiling crisis, rather than look back at all of the stories he missed while he was away.
Colbert was particularly outraged by an idea that's been floating around for the Treasury to mint a trillion-dollar platinum coin. "We should have known a coin was Obama's solution to everything. It was right there in his slogan: 'Change.'"
He then cut to a report from CNN to explain why the potential fix "is legal, in that it is not technically illegal." There are limits to how much paper money the U.S. can print, along with limits on gold, silver and copper coins. But apparently, as long as you make a coin platinum it can be worth however much the president decides. GOP members of Congress have pointed to this strategy as a way to avoid dealing with spending cuts and have tried to block it from happening. And Colbert seems to think it's just as ridiculous.
Towards the end of the segment, he goes on to imagine what America would put on such a coin and eventually settles on the Charmin bears. Because, "when you pull an idea like this out of your ass, you're going to need something soft."
Ultimately, Colbert concludes that a trillion-dollar coin is not the solution to our country's debt problems. "Our nation's debt is $16 trillion. And we can't make a $16 trillion coin. That's just silly."
Watch video below, via Comedy Central:
—
>> Follow Matt Wilstein (@TheMattWilstein) on Twitter
Have a tip we should know? tips@mediaite.com