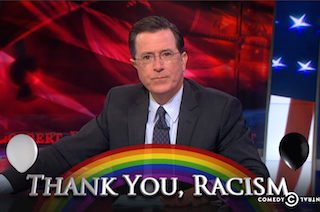 Stephen Colbert returned from vacation last night and tackled everything from the World Cup to a new smart cup that can tell you exactly what you're drinking. But the centerpiece of his first show back was a look at the role race may or may not be playing in the House Republicans' decision to sue President Barack Obama.
"You'll never guess what Boehner is suing Obama over," Colbert said. "Unless you guessed Obama." Echoing Boehner, Colbert added, "Congress cannot sit idly by while the president rewrites their laws. They have to sit idly by while they not write laws."
While conservatives have supported the use of executive actions in the past, Colbert said "there's something about this president that makes the whole thing seem… shady." Or, as Attorney General Eric Holder put it, "for some there's a racial animus."
"Holder is saying I feel differently about executive orders because Obama is black," Colbert said. "And I'm not going to argue with Eric Holder on this one, because he might accuse me of racial animus."
Instead, Colbert turned to a segment he called, "Thank You, Racism," in which he said only now that he recognizes his "apparent distrust of black people" can he realize that executive orders have been wrong all along.
"Now, I am standing up for America, or against Obama, whatever, same diff," Colbert said. Ultimately, he was forced to apologize to racism for prejudging it without really knowing it.
Watch video below, via Comedy Central:
[Photo via screengrab]
— —
>> Follow Matt Wilstein (@TheMattWilstein) on Twitter
Have a tip we should know? [email protected]