Concha: By Picking Colbert for Late Show, CBS Guarantees Itself 3rd Place in Late Night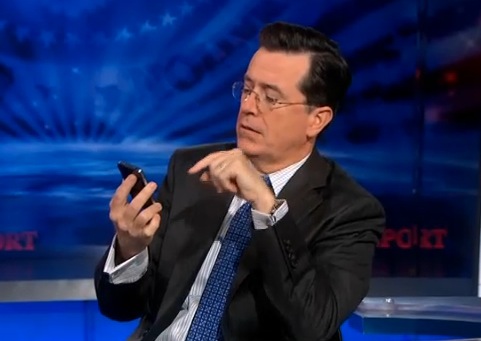 Congratulations CBS! Starting in 2015 after David Letterman retires, you just guaranteed yourself a third place finish each night at 11:30 PM!
And it won't even be close.
By choosing Comedy Central's Junior Varsity, its second-best comedian (and some would argue fourth-best when throwing in Tosh 2.0 and Cartman) in Stephen Colbert, the two Jimmys will sleep quite comfortably tonight. Jimmy Fallon will continue to be #1 in both ratings and viral videos via his unmatched sketch comedy, while Jimmy Kimmel will strongly challenge by delivering better monologues and celebrity interviews. Both the Tonight Show and Kimmel's Live have their strengths with few weaknesses. Both appeal to the all-important 25-54 year old demo (correction: 18-34 and 18-49 in late night), the only group advertisers care about. Both will exist in 2024 and beyond.
As for Colbert, CBS takes a huge gamble. Because when you sign someone as politically polarizing as the 49-year-old Colbert, you start in a huge hole. As in…half-the-country-may-dismiss-you-because-of-your-ideology-kind-of-hole…
As you may have noticed, the country is more polarized than ever. Say what you will about Mitt Romney's ill-timed 47 percent comment; it couldn't have been more correct. No presidential candidate—even Hillary–will ever get more than 53 percent of the vote again. The red and blue lines have been drawn, somewhat thanks to cable news fueling the fire while becoming less about news and more about opinion.
Colbert's openly progressive nature (displayed through his conservative character) is not what's in question here. If he were a big conservative, it's the same conversation. Part of Fallon and Kimmel's formula for success is not picking a side, not being snarky on the political front, embracing the Carson rule of being an equal-opportunity offender.
Since his show began in February, Fallon has not only booked the likes of President Obama, Michelle Obama, Mitt Romney, and Sarah Palin—all polarizing figures—but made them look very good in the process (via the aforementioned sketch comedy). Same goes for Kimmel: Just watch his recent interviews with former President Bill Clinton or Rick Perry… both are revealing and hilarious.
So will Stephen be in character for an hour? CBS says no. Instead, we will see the actual Colbert, which is a completely unproven product with very few reps in public? (six total by Mediaite's count). The real Colbert has hosted zero programs. Zero. So what is CBS getting exactly? Either way, what we will be seeing is niche comedy, the kind of stuff that won't attract the kind of audiences Fallon and Kimmel do. Whatever the offering, Colbert isn't exactly a big draw in his current home, oftentimes losing 20-25 percent of his lead-in audience provided by the more talented, higher-paid ($25 million/year) Stewart.
As mentioned here and various TV and radio spots, Howard Stern was absolutely the best choice for CBS here. Find me someone who compels his interview subjects to say things they would NEVER say to any other host. Find me a more loyal audience…the kind of loyalty to the tune of millions who followed him to satellite radio, where they pay to listen to his show on a daily basis. There's a reason Sirius satellite went from 600,000 subscribers before Stern arrived in 2004 to the 20 million they have now. The XM merger brought its share, of course, but millions came and stay because of the King of All Media. And in case you haven't noticed, some of the highest rated Letterman and Kimmel shows of all-time occurred when Howard was just a guest. As for his ability to play nice on network TV, there's a #1 show on in the summer called America's Got Talent that hasn't generated even a hint of controversy. It has stayed at the top mainly because of the addition of Stern two years ago. He wins everywhere he goes. And he would have won again at 11:30 PM against his dear friend Kimmel and fellow New Yorker Fallon.
But the job goes to Colbert for reasons difficult to understand.
The old saying goes that you never want to be the guy to follow THE GUY. Stephen Colbert — who's fine on cable but will flop on the big stage against steeper competition — now follows a legend, and gets a five-year contract in the process. But when third place becomes a regular occurrence for the proud Tiffany Network, don't expect him to last even three years, let alone five.
And when the smoke clears, Stephen Colbert at 11:30 PM will go down as CBS's worst decision since the time they decided to put Connie Chung next to Dan Rather…
[photo via screengrab]
— —
Follow Joe Concha on Twitter @ConchaMedia
Have a tip we should know? tips@mediaite.com