Concha: Maddow Needs to Be Honest with Viewers (and Herself) on MSNBC 'News Anchor' Role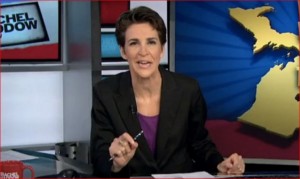 Rachel Maddow joined the ranks of primetime in 2008 after Keith Olbermann used his power and influence to convince execs the Air America host (and periodic MSNBC fill-in) was ready for her own program. So on September 8th of that year–just two months before a huge presidential election–Maddow was on her way to stardom, even getting the attention of and eventually befriending Fox News Chairman Roger Ailes not long after.
Since then, Rachel's show has seen its highs (particularly leading up to and right after the 2012 re-election of President Obama and two months of non-stop coverage of Chris Christie's pretty-much-debunked-now Bridgegate) and lows (the past six months of record-low ratings for the program). In an effort to brand its on-air talent more effectively, since 2011, MSNBC has created some well-produced promos for many of its personalities, including a recent one for the Oxford Rhodes Scholar that is raising some eyebrows.
Two questions: (1) What's the controversy? Answer: Said promo specifically characterizes Maddow as a "news anchor with a big personality. She's smart, funny and passionate." (2) Does Maddow have final say on any promos that involve her before it goes to air? Answer: You bet.
As most of you who visit Mediaite and follow cable news know, Rachel Maddow is absolutely an opinion host. To clarify for those not clear on the difference: Scott Pelley (CBS) or Brian Williams (NBC) or David Muir (ABC) are anchors by presenting the news almost always without offering any opinion while doing so (story selection and omissions by these newscasts is a different column altogether). On cable news, Wolf Blitzer (CNN), Shepard Smith (Fox) and Tamron Hall (MSNBC) are examples of news anchors as well (although the number is dwindling in favor of opinion).
On the opinion host side, Bill O'Reilly, Sean Hannity, Chris Matthews, and Lawrence O'Donnell are opinion hosts, to name a few. Fox and MSNBC differ on the roles of the aforementioned on, say, election nights… as Fox chooses not to place O'Reilly and Hannity as anchors front and center (opting for Bret Baier and Megyn Kelly instead) while MSNBC doesn't have an issue placing its opinion folks in the role of anchor (Maddow and Chris Hayes "anchored" on midterm night one month ago, for instance), even though it flies in the face of the conventional definition of anchors presenting facts without commentary, as both have done early and often during those particular telecasts.
All of that said, Maddow obviously falls into the category of opinion host regardless of "anchoring" during special coverage of an event and there. Any objective person would agree. However, she seems to believe she really is an anchor, at least according to the way she characterized her role back in 2012 on HBO's Real Time with Bill Maher when confronted by the underrated (and decidedly not right-wing) Nick Gillespie (Reason.com) on whether she supported Romneycare or not.
For those who missed it, here's the transcript:
GILLESPIE: Wait, so are you a fan of RomneyCare?

MADDOW: What? Make your point.

GILLESPIE: I'm sorry, I'm asking.

MAHER: You're not for RomneyCare?

GILLESPIE: You're not for RomneyCare?

MADDOW: Leave me alone about RomneyCare, all of you.

GILLESPIE: That's a f—king no to me. I don't…

MADDOW: Listen, my job is to cover these things, not to tell you how I like them or not.

MAHER: Oh.
So the obvious takeaway from that exchange (outside of Maddow not enjoying being called out in any capacity and Maher being stunned into near-silence) is the job description of covering news without advocacy or opinion. But anyone–liberals, moderates, conservatives–who watch the 41-year-old California native every night would say the show is exactly the opposite: Certain stories covered, some ignored, some cheered, some booed… all with an overriding theme: Republicans are bad for the country.
Note: That description is not necessarily a criticism. For example, Hannity's program on Fox has the same theme–just different adversaries–with most analysis critical of the president and liberal policies in general. Even some deemed moderate Republicans aren't spared, as Hannity is an unapologetic conservative that leans more towards the Ted Cruz wing than the John Boehner faction of the Republican party. As Hannity often says when asked about his role on the network: "It's like a newspaper having a front page and an op-ed page. I'm part of the op-ed page on the network."
The major difference, of course, between Maddow and Hannity is dissent: The former rarely has anyone booked to offer a contrarian opinion to the host and/left-leaning guests, while the latter has opposing views featured nightly. Before you say, "No Republican would dare appear on her show," we're not just talking politicians, but conservative pundits/talking heads. MSNBC has a few of staff as contributors in addition to the full-time Joe Scarborough. There's also plenty of right-leaning writers (or the aforementioned Gillespie) who would be happy to get national primetime air, yet it hardly ever seems to happen. In the end, echo chambers simply don't make for compelling TV, which may help partially explain the ratings struggles at MSNBC in general.
By the way, for those who don't believe anyone really sees Rachel as a news anchor, here's the opening paragraphs on the topic from the progressive PoliticsUSA:
Viewers' dreams of Rachel Maddow someday hosting Meet The Press took another step forward as new MSNBC advertising refers to as a news anchor.

It is an interesting change, and one that reaffirms MSNBC's commitment to Maddow being the center of the network. Maddow has been anchoring the network's election night and other big event coverage, so it isn't inaccurate to refer to her as MSNBC's news anchor.
Actually, it's completely inaccurate for the reasons mentioned before. So here's the only unsolicited advice being offered here: Maddow simply needs to be honest to her fans as well as herself. She certainly has the power internally to change or kill the "news anchor" promo…as she apparently owns more influence at the network than Olbermann did at his peak.
Rachel Maddow is indeed the face of MSNBC. Regardless of your opinion on her political views, she's still got the kind of unique talent it takes to thrive and–in tough times like now–survive in cable news.
As the Dalai Lama once said (big hitter, the Lama): "A lack of transparency results in distrust and a deep sense of insecurity."
To that end, it's time for one opinion host to say she's exactly that…instead of pretending to be something she's not.
Watch the MSNBC promo below:
— —
>>Follow Joe Concha on Twitter @JoeConchaTV
Have a tip we should know? tips@mediaite.com