Conway on Clinton Blaming Comey for Election Loss: 'It's Always Somebody Else's Fault'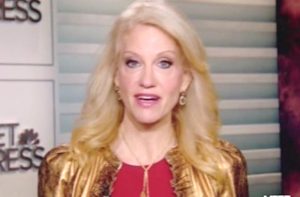 Kellyanne Conway thinks that Hillary Clinton needs to take a good hard look at her own shortcomings before blaming others for the fact that she lost to Donald Trump.
In the days that followed Clinton's surprising election defeat, she and her aides have said that she would've won if FBI Director James Comey didn't sink their momentum with his letters about her email server investigation. Chuck Todd asked Trump's campaign manager about that on Sunday's Meet The Press, to which, Conway found it "unfortunate" that Clinton World was using that to excuse their loss.
"I can't believe it's always somebody else's fault," Conway remarked. "Sometimes you have to take a look in the mirror and reflect on what went wrong."
Conway went on to say that the polls were already tightening before Comey's letters came out, and that Clinton's campaign argued that voters made up their minds about her emails long ago. Conway felt that by going back on those arguments now means that Clinton's campaign is trying to have it both ways in defeat.
"What about the fact that they just got it wrong?" Conway asked. "What about the fact they weren't in touch with Americans and the cultural zeitgeist and the issue set that motivate Americans."
Conway's first letter announced that the FBI discovered a new email collection pertaining to Clinton's private server, though his second letter effectively cleared her by saying that almost every email was a duplicate of previously examined messages.
Watch above, via NBC.
[Image via screengrab]
— —
>> Follow Ken Meyer (@KenMeyer91) on Twitter
Have a tip we should know? tips@mediaite.com